CEB drags old power plants into action
View(s):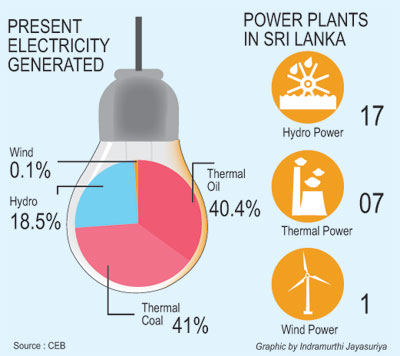 The Ceylon Electricity Board (CEB) has cautioned that despite heavy rains in catchment areas this week the situation was still bleak for the power sector.
CEB Chairman Anura Wijepala told The Sunday Times the board was banking on the coming monsoon season to yield a long spell of heavy rain in the catchment areas. "The rains we experienced this week were inter-monsoonal rains," he explained, adding that these falls were not sufficient at all for the reservoirs.
Mr. Wijepala emphasised there was no need to impose power cuts at present although that situation could change if the expected rains failed to arrive.
The latest statistics made available by the CEB indicated that by April 1, hydropower generation had fallen to 18.38 per cent. The bulk of power demand was being supplied by thermal power, with coal making up 41.02 per cent and oil accounting for 40.37 per cent.
Director (Development) of the CEB, Sulakshana Jayawardena said hydropower generation was hovering at about 20 per cent. Total reservoir capacity stood at 40 per cent by the end of this week, up from about 38 per cent the week before.
The CEB is looking at contingency plans should the dry spell continue, Mr. Jayawardena said. As a first step, it is looking to immediately sign an agreement to purchase electricity from the 100 megawatt (MW) diesel powered ACE power plant in Embilipitiya.
The CEB had earlier signed power purchase agreements with several Independent Power Producers (IPPs) but had chosen not to renew them after their terms expired. Given the urgency of the current situation, however, it is now looking to either extend these agreements or purchase the plants outright.
Mr. Jayawardena said negotiations had also commenced with owners of two other plants, the 25MW ACE power plant in Matara and the 100MW Heladanavi plant in Puttalam.
"The owners of these two plants have said it is difficult for these decommissioned plants to immediately recommence operations. The power plant in Embilipitiya, though, is intact and we are now looking to renegotiate an agreement with the owner based on the agreement we had earlier," Mr. Jayawardena said.