A holiday that cost an arm and a leg
By Chris Kamalendran
German TV presenter describes horror accident
View(s):
A speeding car changed the life of a well-known former German television presenter on holiday in southern Sri Lanka.
Michael Mross, 57, arriving in Tangalle from Bentota on March 6, spent a few hours on the beach, and shortly after 5 p.m. had crossed the road and stopped at a wayside thambili seller.
"The tourist was seated on a bench under a margosa tree and drinking the thambili when a car came towards him at high speed and knocked him down," the thambili seller said.
Soon after the incident the car driver, who appeared to be under the influence of liquor, sped away along with two others in the vehicle, the streetside vendor said.
The German was severely injured, with part of his hand and part of the leg severed. "Bystanders rushed him to the Tangalle Hospital," the seller said.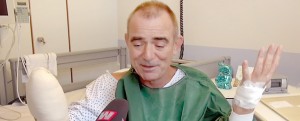 Inquiries found that the car was driven by a person who was attending a wedding party in a nearby hotel.
The following day the owner of the car turned up but the driver appeared only three days after the incident.
The 32-year-old driver, M.K. Shiran Nirmal, hailing from Beliatta, was produced in court and although initially remanded was later granted bail on March 30.
Mr. Mross, who was rushed to the Tangalle Hospital and transferred to Colombo National Hospital on the advice of Medical Superintendent of the Tangalle Hospital, Dr. Muditha Amerasinghe.
Now recovering in a hospital in Germany, Mr. Mross has described his harrowing experience to the media there.
He said due to a huge loss of blood he had been unconscious for four hours and then transferred to Colombo.
"Wrapped in sheets, my battered body was manoeuvred into a vehicle," he said. "I thought I would die of pain. Then came a three-and-a-half-hour drive to the Colombo Hospital. This trip was hell. There was nothing to drink and nothing to eat as I had to undergo surgery. The ride was barely tolerable: I repeatedly fainted with the pain," he told media.
He had been placed in the Intensive Care Unit and was in fear, drifting in and out of consciousness.
He spent two days in hospital, receiving regular blood transfusions.
On the following Thursday he was transferred to Colombo airport but at the airport it was an agonising wait as there was a delay in take off due to a malfunctioning AC on the flight.
Finally, he arrived in Berlin where he underwent another four-hour operation.
Mr. Mross says his main fear is about the lasting effects of his injuries on his way of life.