Miles to go
By Duvindi Illankoon
Vintage car enthusiasts Rukshan Munesinghe and Manivannan Manikumaran who travelled 10,000km overland from Malaysia to Sri Lanka, speak to the Mirror Magazine about their 'Friendship Beyond Borders' initiative
View(s):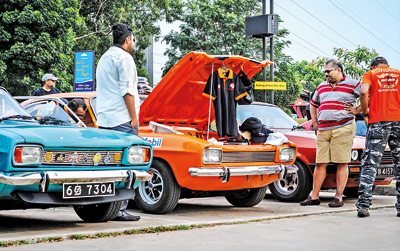 When we drop by the Madiwela Car Park on a Saturday evening it's already packed with vehicles of all sizes and makes, but more notably with many automobile enthusiasts – young and old alike.
They've all gathered here to welcome Rukshan Munesinghe, a third generation Malaysian born to a Sri Lankan family, who has travelled almost 10,000 km overland via his trusty Ford Capri to reach Sri Lanka.
Rukshan travelled with his good friend Manivannan Manikumaran, who was also present at the gathering. Rukshan chatted to other classic car enthusiasts and posed for photographs, before taking a small break to talk to us. "It's really nice to see all these people who've turned up to welcome us," he says.
The duo began their travels for the 'Friendship Beyond Borders' initiative, which they set up for this journey. The inspiration behind the initiative was simple, says Rukshan.
"We made so many friends along the way, from the people we met on the road, to random strangers who helped us out without expecting anything in return, to other classic car lovers along the way. It was about how kind people can be, and how a love of cars can go beyond any other differences."
Rukshan is in the business of restoring and selling classic vintage cars via MY Classic Cars. While he has actually trained as an accountant, and worked in this industry, and also in sales and marketing before chucking it to pursue his passion for vintage cars.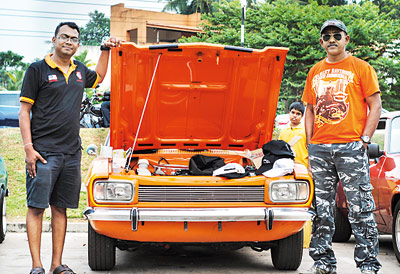 He has travelled to Thailand in his vehicle before, through an annual road trip organized for classic car enthusiasts.
The idea to travel to Sri Lanka was supported by his friend Manivannan – they had met while riding motorbikes in Malaysia, and have been firm friends since. The duo set off on December 14, last year.
The vehicle for the journey was Rukshan's 1971 Ford Capri 1300 GT. For the trip his Capri underwent a few minor changes, such as an added electronic distributer as well as a fuel pump.
Their first destination was of course Thailand – then Myanmar, India and Sri Lanka. Overall, they pumped close to 1,000 litres of fuel to make the journey.
Rukshan's expectations for the initiative's name proved to be well founded — they made many friends along the way, and banked on the kindness of strangers to get them through certain hurdles.
He will now return to Petaling Jaya in Malaysia, where his business is based.