Comedy Sundays
Building a space for stand-up comedy in Sri Lanka
View(s):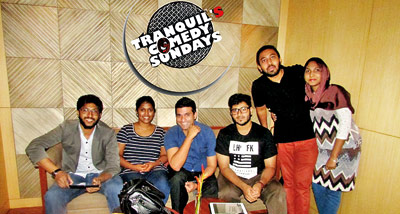 Tranquil Events being the pioneers in hosting comedy shows in Sri Lanka is now managing four of the best stand-up comedians in Sri Lanka.
Tranquil Events along with its partners PR Wire and The Coffee Bean and Tea Leaf can proudly say that they have reached the short term goal.
The goal was to create a platform for stand-up comedy while sourcing and managing these creative talents. There is another goal left and that is to have the biggest comedy festival in South Asia and we are not far from it.
Currently Tranquil Events manage the following exclusive talents:
Yasir Haris
Yasir Haris was always known to be 'the funny one' among friends and family. His brand of being a comedian happened through the Comedy Sundays platform.
He further noted 'I do it for the fun of it and I love making people laugh and have a great time. This is strictly my hobby and I love it.'
When asking about his achievements in his life he said "I won the finger painter award in kindergarten such a great accomplishment in my life."
Garwin Murray
Garwin got into comedy because he always had a funny bone in him and he always thought stand-up comedy is one of the hardest trades and he took it as a challenge.
Garwin further noted, "Comedy challenges your creative side, I love making people laugh and I enjoy the stage. It makes me happy."
Kaishika Rodrigo
Kaishika has been involved in humorous speech contests as a toastmaster. She has been awarded the first runner up at the Reverberations 2015 district level.
When Kaishika was present at one of the comedy Sundays, a friend of hers had asked her if she was interested to do a skit as a stand-up comedian and that is how she got involved in Comedy Sundays.
Asking her on why she preferred to do comedy, she stated, "I love making people laugh. It is definitely not easy, once profanity and sarcasm is out the door it is a real challenge. I love it when people are free from concern and just laugh, laugh till it hurts.
Shuhaib Ali
Shuhaib Ali was introduced to comedy Sunday by Tranquil Events. Tranquil Events has worked with Shuhaib from 2013 and managed him as a comic.
For more details, contact Mariam on 0771299002.