'Breath': Discharges popular dance music
View(s):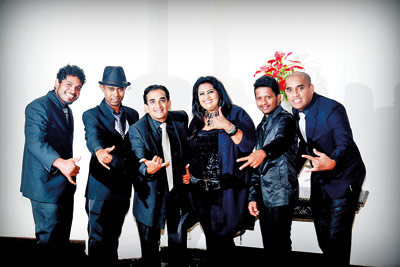 Popular band 'Breath' is not a new scenario in the Lankan music scene. Led by talented Thushara Peiris of popular 'me paaluwe nimnaye' fame, 'Breath' is loaded with talent.
'Breath' started as a three piece outfit in 2011 and continued as a Trio till recent time. But the popularity of the band demanded the change to a fully fledged lineup.
'Breath' is now a six piece band led by Thushara on keyboards and vocals along with Rishani Ekanayake handling frontline vocals, Priyantha Peiris on guitar and vocals. Acoustic drums, bass guitar, and saxophone are new additions of the band.
Thushara started his music career in 1992 after leaving school. He formed a six piece band and after 3 years of hard work it was disbanded. Then he joined with Kumara Ekanayake and his band.
'I have taken lot of pain during my career as a musician and gained experience working for many bands. We have played for so many weddings, dances, lots of corporate functions and even got the overseas exposure too. These make me strong and face challenges' he said.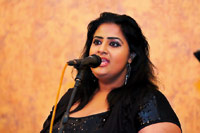 The lead vocalist of the band Rishani is a talented singer.
'She is a dynamic and versatile singer. She got an amazing voice for English songs as well as for Sinhala pop songs too' Thushara said.
Overall 'Breath' is a replete with everything it takes to keep their audiences musically excited with the thrills of great musicianship.
With their wide repertoire of golden oldies, contemporary chart hits, country and western, rock 'n' roll, baila and Sinhala pop combined with their tight musicianship, make them one of the best loved entertainment outfits in Sri Lanka today.
'Breath' is the latest outfit to hit the music scene. Led by talented Thushara Peiris of 'me paaluwe nimnaye' fame, 'Breath' will perform at the Hotel Lanka Princess for this year's New Years Eve Dance.
Thusahara said his band 'Breath' were busy with many engagements during the last festive season in Colombo and outstation venues as well.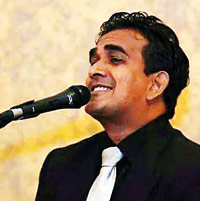 'We perform at the Blue Water lobby on Wednesdays and fixed venues in Colombo during the weekends. Apart from regular venues, we play at seasonal gigs, corporate functions and other parties in and around Colombo' he said.
Thushara's maiden song 'me paluwe nimnaye' was a hit overnight a few years back and the video of the song is still being telecast by many television stations.
'It was an encouraging attempt. After it hit the scene, I penned few songs and I am doing final touches to them. Most probably after this busy season I will release a couple of it to radio stations to air the songs' he added.
– (SW)