98 Acres Resort receives accolade
View(s):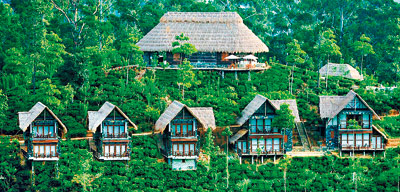 U.H.E Group, the umbrella company to world renowned brands; Halpé Tea, 98 Acres Resort and Spa in Ella and the Secret Hotel Chain (located in Kandy, Galle and Yala), collectively became one of the highest awarded private companies in the illustrious history of the Entrepreneur Awards in Sri Lanka, clinching an astounding four top trophies at the ceremony.
This year's awards saw the Chairman, U.H.E Group A. P. D Aberathna receive the Uva Province Gold and National Level Gold 'Entrepreneur of the Year 2015' Award for Uva Halpewatte Estates Pvt Ltd.
As well as Director Administration, U.H.E Group – Chamara Aberathna receive the 'Young Entrepreneur of the Year 2015' Award at Uva Province and National level for 98 Acres Resort and the Secret Hotels.
'U.H.E Group, which began as a family run tea manufacturing and exporting business with three estates; Uva Halpewatte, Uva Greenlands and Uva Halpe Plantations, has become a symbol of perseverance and aspirational prowess for the island-nation of Sri Lanka.
It is through hard-work and dedication of our workforce working as one family that out beloved U.H.E Group has grown this far' commented Eranda Abeyrathne.
The Federation of Chambers of Commerce and Industry of Sri Lanka (FCCISL) has recognised Sri Lanka's premier entrepreneurs through these awards for the past 20 years allowing for a vast range of businesses, across the nation to celebrate and showcase their excellence.
The U.H.E Group rounded-up 2015 with the following awards, 'Tea Exporter of the Year' in the Bulk Tea Category and Value Added Tea Category at the National Chamber of Exporters (NCE) awards, 'World Best Luxury Mountain Resort' bestowed upon 98 Acres Resort at the World Luxury hotel Awards (WLHA) in Hong Kong, as well as the 'Travellers Choice Award' to 98 Acres Resort & Spa and the No. 1 of 52 hotels in Kandy – The Secret, Kandy awarded by TripAdvisor.