Lanka's token task for tuskers
View(s):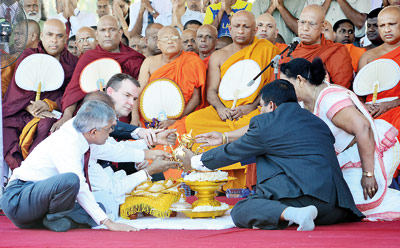 The Government on Tuesday made its voice against the illegal poaching of tuskers heard by the world.
In a state ceremony at Galle Face, some 359 tusks weighing 1.5 tons were crushed and burnt at an incinerator in Puttalam.
The Government and the Customs Department organised this ceremony where the tusks worth Rs. 400 million were crushed and later burnt. The tusks, Sri Lanka's biggest blood ivory detection, were seized at Colombo Port in 2012 as they were enroute From Kenya to Dubai.
A large crowd gathered at the Galle Face Green on Tuesday to witness the historic destruction of the tusks which are believed to have been obtained after killing the majestic tuskers in Tanzania.
Two-minute silence was observed in memory of the slain tuskers, followed by pirith chanting by Buddhist monks and prayers by representatives of other religions.
Firstly, two tusks of slain Sri Lankan tuskers were put into a gas cylinder crusher before the African elephant tusks were crushed.
The crushed pieces were then taken to Puttalam under tight security to be burnt in an industrial incinerator at a temperature of 2,000-degrees Celsius.
Meanwhile, a series of stamps to mark the event were issued at the Galle Face Green ceremony. They were issued in honour of the top seven wild animals of Sri Lanka — the Asian elephant, leopard, sloth bear, black necked stork, saltwater crocodile, leather back sea turtle and blue whale.
John E. Scanlon, Secretary General of the Convention on International Trade in Endangered Species (CITES), was a special guest at the Galle Face ceremony.
He said what Sri Lanka had done was historic and the world's wildlife community would be ever grateful to the country. He also praised the Customs for this detection.
Sri Lanka has become the first South Asian country to destroy valuable tusks that were smuggled out after killing majestic tuskers.
Mr. Scanlon said the CITES would take decisive actions to stop the alarming tend of poaching of African elephants.
The custom officers who made the detection and volunteers were awarded appreciation for service certificates by Wildlife Conservation Minister Gamini Jayawikrama Perera.