Gratitude is the memory of the heart
View(s):

Being grateful is not something peculiar to humans. It is found even in the animal kingdom with greater or lesser intensity. There is no caste or creed to show gratitude. An act of gratitude is appreciated by gods and men, and will be, through our sansara. The Mathuposaka Jataka and other Jathaka kathas tell us how the Lord Buddha showed gratitude.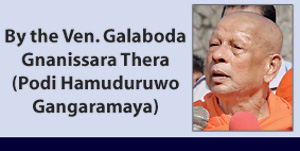 If we are ungrateful to a person or pretend as if we cannot remember the favour we received, then we are committing an evil deed according to Dhamma, whether we are Bhikkus or lay people. If we knowingly commit this evil deed the results could be disastrous.
The Lord Buddha in Sigalovadi Sutta preached about the friends we should and should not associate with. But in reality we cannot gauge people just by looking at them from outside and decide whether to associate with them. It takes a long time to study their character and come to a decision. Even in the history of the Buddha Sasana, we come across ungrateful characters. It takes a long time to study the character of a person, and no one must be in haste to do this. Many people do not reveal their true character at once.
Many who approach us as friends, acquaintances and even as lovers, do so mainly to cheat us and for selfish reasons. I want to address such persons today. If an ordained Bhikku cheats someone it is such a great evil that it will be his ruin even in this world. The spread of Dhamma to the outside world should be publicised and there is a small group who do this properly. But the greater number of those who claim to spread the Dhamma do so to earn a living and to benefit their own kith and kin — not for the greater good of the Buddha Sasana.
I would like to enlighten readers through these articles about how I started a temple in another country, how a Bhikku was selected for permanent residency there, how he let me down and his ultimate downfall thereafter. The reasons are forgetting to recognise good from evil, and failing to do one's duty. Hope at least in the next birth such people will be properly guided to rectify such mistakes. I am saying this not through jealousy or animosity. I have appointed many Bhikkus as permanent residents abroad. I was instrumental in sending many Bhikkus to the outside world to preach the Dhamma. But some have forgotten what the preaching of Dhamma is. They are enjoying their lives abroad, not even doing their duty as Buddhists.
I know that more evil than good is being committed at many foreign temples including some belonging to or started by the Gangaramaya. It is not unique to Gangaramaya. There are many politicians, state sector officials, teachers, professors and others who are behind the evil, cheating and selfishness in the country. We will not reach the just society that we are yearning for, with people such as these.
Persons from various nationalities come to see me. Many from other faiths too come. They give me details about themselves and their religions and make requests. I tell them I am not worried about their nationality or religion. As a Buddhist, I associate with many Buddhists. As a Sinhalese, I associate with many Sinhalese. I also associate with the clergy and lay people. With these associations, I know their good and bad qualities and character. There are good people among them. It is immaterial to know the nationality or the religion of the good people.
In the Thera Theri Gathas, the Theras and the Theris recollect their past and enjoy being happy. Their honesty is reflected in this. Today some who have assumed leadership have forgotten this honesty. They have forgotten about their journey to fame with the help of those who elected them. If we do not take trouble to open their eyes, we will be failing in our duty. Therefore, all those who have risen to power should be grateful to those who had put them there. This is not to demean them but to publicise their good character and the good that they do.
I would also like remind readers to donate agricultural implements, water tanks and other items to Gangaramaya Temple for distribution among the needy.
Please write to me:
Ven. Galboda Gnanissara Thera,
Gangaramaya
61 Sri Jinarathana Road,
Colombo 02