Freedom flushed down Railways toilet
View(s):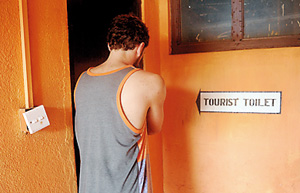 Sri Lanka celebrates 68 years of independence from colonial rule this week but the Railways Department seems to have missed the message.
In scores of railway stations across the country — from Colombo Fort and Mt Lavinia to Nanu Oya and Badulla —Sri Lankans are being condemned to decrepit, dirty toilets while non-Sri Lankans are offered clean, tiled toilets sign-boarded "For Foreigners" or "For the Use of Foreigners".
The racial segregation has caused issues, Railways General Manager B.A.P Ariyaratne said. Officials regularly receive complaints from irate Sri Lankans who see the division as insulting. But the Railways Chief said it was being done to preserve the image of the country as many locals did not use the facilities in a decent or clean manner. They also drew on walls and soiled the floors making it difficult to maintain the toilets.
"We are being treated as second class citizens while foreigners are given higher status," said R.D. Primal Madusanka (38), a commuter who was at the Colombo Fort station. "It is unfair to do this. We travel on these trains throughout the year, yet we are discriminated against. These people who visit the country once a year are given good facilities."
"We are not treating our people in a derogatory manner but our people are degrading the facilities we provide them," Mr. Ariyaratne explained. "That is why we have provided foreigners with separate toilets to conceal these things from them." "I accept that we are wrong," he continued. "It is unfair for the local commuter to feel neglected, segregated or feel as if we are ruling over them as in colonial times. Therefore, the local toilets will be improved while foreigners' toilets will be re-named according to ticket classes."
Foreigners also felt the pain of Sri Lankans. Some also felt embarrassed to go pick up their separate keys to gain access to the special toilets. Pleuni Sloots, 27, who is visiting from Holland, said in their country foreigners and locals were treated equally and allowed to use the same toilets.
"We are all humans here," she said. "If I were Sri Lankan, I would definitely be hurt to see foreigners treated well while our own people were neglected. We come to see the beauty of Sri Lanka. Locals might feel they are treated badly because we are still ruling over them. This is not the case."
"It is awkward when people are being discriminated against," she added. "We heard that Sri Lanka would be celebrating Independence Day, yet we see people are given the wrong message by the Government."In some instances the foreigners were unaware that they had to request the railway employees to open the toilet doors and made use of the facilities available for locals or walked away.
The malaise is also spreading to other areas. The Peradeniya Botanical Gardens, too, offers segregated toilets for foreigners and Sri Lankans. In most cases the foreigners' toilets have clean commodes with hand driers, bidet showers and toilet paper while the "local" ones only have squatting pans, urinals and buckets.
Deputy Transport Minister Ashoka Abeysinghe told the Sunday Times they were compelled to have separate toilets for foreigners as the normal toilets lack necessary facilities and the country's image was preserved by providing them with separate facilities.
"However, there is a problem in identifying foreigners as some of the Asian country visitors are not provided with the facility," he said.