Free and flowing designs from Sarita
By Shenali Perera
View(s):
When fashion designer and entrepreneur Sarita Rajandran made the jump from marketing to fashion two years ago, she found herself in the deep end.
With nothing except her marketing experience and love for fashion backing the new venture, "I was literally selling out of a suitcase," said Sarita at the recent launch of her label, Rachel Raj held at Ginger in Colombo 7.
A luxury brand encompassing a vintage appeal and boho-chic style, the Rachel Raj collection features evening wear and sarees as well as smart casual and resort wear under the label 'Gypsy' and 'Gypsy Man'.
Inspired by colour, freedom and adventure, the label includes a range of Indian prints, cotton, silk, chiffon, soft linen and batik.
"I started out exporting," said Sarita, who originally had one buyer to purchase her entire collection and take it to customers overseas. "I thought there may be a need for something like Rachel Raj in Sri Lanka but was afraid because I didn't know how the local market would react."
Her biggest challenge was not having the credentials as a designer which is especially important in Sri Lanka, Sarita told the Sunday Times.
Rachel Raj has now partnered with Takas.lk for online sales within Sri Lanka and is already operating in the United States and UK through private vendors.
Rachel Raj is tailor-made especially for fuller bodied women, which Sarita believes is a high demand niche in the local market. "It's not necessarily plus size, but more free size, although we do have larger sizes as well," she said.
"My idea is for anyone and everyone to feel good, confident and free in what they're wearing."
Rachel Raj prides itself on never repeating a collection and each design is usually limited to one or two pieces, said Sarita. She described her debut collection for the label's local launch as flowy and adapting easily to any silhouette.
Sarita tells us that being a mother herself, she understands that a woman's body changes after having children. "There is no such thing as a perfect 10. Sometimes you're just in-between and I cater to that in-between size," she said.
Having also recently released an online blog, Rachel Raj provides an additional personal stylist service (currently free of charge as part of their launch) to customers in need of assistance when choosing the right outfit or styling it the best way.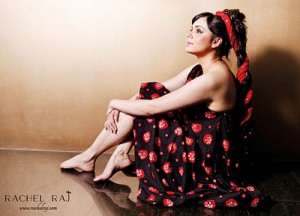 Stylist Anitra Thambiah told us she would be looking at current trends and what would best suit the customer's body type and tastes in order to create a look that was both complimentary and fashionable.
"It's all part of that luxurious feel that we want for our customers when wearing Rachel Raj," said Sarita.
Rachel Raj is available online at takas.lk,Fortress Resort and Spa, Koggala and 34, 27th Lane, Colombo 3.