All about coming first
View(s):

In our school days coming first in class was a big achievement. The title of veteran sports journalist Asoka Gunatillaka's latest book is 'Palamuveniya' – coming first.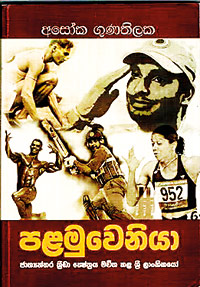 The cover tells the story. It carries pictures of five top sports personalities in Sri Lanka. All are easily recognisable.
He talks about those who have brought fame or recognition to the country in the world sports scene – some through achievements at global level and others through clever managerial skills sitting in the 'mulpuruva' of the numerous sports bodies.
Asoka discusses the achievements of twenty personalities. Most of them have been household names. Among them are three women – Susanthika Jayasinghe (Athletics), Tamara Dharmakeerthi Herath (Netball) and Dr. Samantha Nanayakkara (Sports Education).
Asoka's is not just a record book. He gives a brief history of the person, highlights his/her sporting career and in some, provides detailed statistics of their performances.
He is forthright in his comments on how players and administrators get victimised, neglected or ignored, mentioning bureaucratic sabotage and even incidents in the personal lives of some players.
He often traces the origin and development of a particular sport.
Sri Lanka's first Olympic medal winner Duncan White with whom he starts, was a self-made athlete. He did not have a regular coach when he trained for the London Olympics in 1948, Asoka says.
Just about a week before the Games he got a few tips from Brant Little, an American athletic coach. (I remember him as the coach of the University of Ceylon at Peradeniya in the early 1950s.)
Not many may remember that Duncan White was a lecturer on physical education at the Maharagama Teachers' Training College for nine years (1951-60).
He was secretary-general of the National Olympic Committee (1959-63), moved to Nigeria where he got a lecturer's post and from there proceeded to Argentina. He later settled down in Warwickshire.
Asoka says it took 40 years after he won the Olympic medal for Sri Lanka to recognise his achievement. A commemorative stamp was issued in 1988.
Asoka wonders whether such treatment to a national hero by sports officials or bureaucrats was deliberately done. He also questions what has happened to the Duncan White Foundation which was launched with much pomp and ceremony on the Olympian's 72nd birthday in Colombo.
White paid one more visit to Sri Lanka in 1987 as chief guest of the Golden Jubilee of the Olympic Committee before he passed away in 1998.
Another self-made champion was A.J. M. Lafir who reached the zenith of the World Billiard Championship in 1969. He was then 40. "None cared for billiard players.
There was no state support. Billiard players were looked down upon as thugs and underworld types. Everyone's eyes opened when Lafir started collecting award after award including six in the All India Billiard Championships once," Asoka says.
Then he got a red carpet welcome with several Ministers among the dignitaries who met him at the airport. He was brought to Colombo in a motorcade. A simple, unassuming, friendly man, Lafi's death at 52 was attributed to his heavy consumption of liquor.
Another unsung hero Asoka mentions is Bonnie Henricus, the boxer who won the first ever gold medal for Sri Lanka at an international competition.
At the 1938 Empire Games (later known as Commonwealth Games) in Sydney, Australia, he won the featherweight title. A police inspector with a service of 33 years, he too ended up in America where he died at 90.
Many more interesting anecdotes are in the book – too many to relate.
Of the twenty personalities Asoka has picked, eight have reached recognition because of cricket. They include two administrators – Minister Gamini Dissanyake and Ana Punchihewa – both were Presidents of the Board of Control for Cricket.
The former was responsible for Sri Lanka gaining Test status and the other's strategic planning helped Sri Lanka to win the World Cup in 1996. Asoka describes how the Board members showed their 'gratitude' to Ana P after the World Cup victory.
"The final was played on March 17, 1996. On March 31 he was thrown out at the Board elections. That day is recorded in history as the day when politics entered cricket elections.
It was generally believed that Ana P would be elected uncontested. He himself believed that nothing untoward would happen. His erstwhile colleagues would be on his side. But he lost by three votes.
His vice president Upali Dharmadasa occupied the president's chair. Several who had promised their vote to Ana P ultimately voted against him," Asoka writes.
Others featured in the section on cricket are players Arjuna Ranatunga, Muttiah Muralitharan, Sanath Jayasuriya, and Kumar Sangakkara, current ICC chief referee Ranjan Madugalle and coach Dav Whatmore.
In other sports Asoka discusses the contribution made by Prasanna Peris (Body Building), Herbert Embuldeniya (Boxing), F. Saheed (Billiards), Manilal Fernando and Nimal Wickrematunga (Football) as well as Hemasiri Fernando (Olympics).
Asoka, who counts years of experience having been sports editor of 'Divaina' had done extensive research in collecting the facts and figures.
The Sarasavi publication is attractively printed. 'Palamuveniya' is interesting reading with Asoka's easy style of writing. Perhaps he should work on the English edition, if he is not already working on it.
Book facts
'Palamuveniya' by Asoka Gunatillaka. Reviewed by D.C. Ranatunga