A butterfly guide this season to inspire time with nature
By Malaka Rodrigo
View(s):
Butterfly watching – also called butterflying – involves the observation and study of butterflies. With the main aim of popularising interest among the public, the Butterfly Conservation Society of Sri Lanka (BCSSL) will be launching the photographic guide 'Field Guide to Butterflies of Sri Lanka' that has more than 600 photos and illustrations of all of the 247 butterflies of Sri Lanka including the 26 endemics.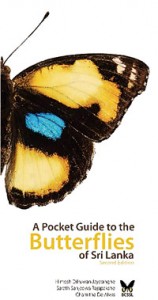 The guide is authored by a trio of young butterfly enthusiasts Himesh Jayasinghe, Sarath Sanjeewa Rajapakse and Chamitha de Alwis. Writing the foreword, butterfly expert Dr. Michael van der Poorten says he is impressed with the authors' scientific field skills.
He introduces the young trio as butterfly researchers who understand the importance of careful observation, recording accurate field notes and making the proper identification. The guide is also a compilation of 15 years of field research by authors.
Through the photographs, the authors help even an amateur to distinguish butterflies from many different angles. The photos also show behaviour and living habitat of each species in most instances. "Some butterflies feed on fruits, some others on odd foods like bird droppings.
Some butterflies perch at the bottom of leaves – We carefully handpicked the best photos that helps anybody to identify butterflies," said Jayasinghe.
In 2013 the authors together with other butterfly enthusiasts formed the Butterfly Conservation Society, the first such organization in Sri Lanka aimed at studying butterflies and moths.
They used different media to reach out to butterfly enthusiasts in the country and conducted several field studies on butterflies with previously unknown information about butterflies, their distribution, their larvae, host plants and feeding.
The second edition of the pocket guide will be richer in content and not be a reprint of the first edition published in 2013 say the authors.
The publisher– the Butterfly Conservation Society is still a young organisation but its membership is growing steadily. Most importantly, the members are very active in the field.
They meet every last Saturday of the month at the University of Colombo to share their knowledge and listen to a lecture on butterflies. Field visits are organised regularly. The only qualification to join the society is an interest in butterflies!
The Pocket Guide to the Butterflies of Sri Lanka – second edition will be launched on Saturday, December 19 at 4 p.m. at the Meteorological Department Auditorium, Bauddhaloka Mawatha, Colombo 7.
The guide will be available at a special price of Rs.1500 at the launch. The Butterfly Conservation Society can be reached on 0718181225 or butterflycssl@gmail.com for queries on the book and membership.