Look ahead to scale new heights
View(s):

On this bright Thursday I heard from my Guru Rajini Selvanayagam that our Dance Institute is about to celebrate its 40th grand year. My memories went back to my very first year of dancing at the "Chamara Kala Nikethanaya".  Celebrating the Academy's 40th birthday over September with programmes that embody its expansive commitment to art and social justice, Rajini's Dance Academy enters a new era not constrained by past struggles.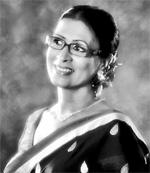 With classes in traditional Kandyan, Low Country, Indian Dancing such as Bharatha, Kathak and Free style modern dance, children's shows and a roster of performances by top local and touring artists, the academy is a hive of activity day and night.
Students of this Institute are fortunate to have a great teacher who gave us knowledge so generously and expertise in the field of dancing. It means a lot to me personally, being the very first student of this institute.
The Institute has been providing immense service to the younger generations in promoting performing dance and arts which are integral parts of our culture and society. The Dance Academy was launched in February, 1975 with the main goal of fostering a value-based society by promoting universal values of love and harmony among people of different faiths, customs and traditions. Guru Rajini named it "Chamara Kala Nikethanaya" and it was registered under the Ministry of Cultural Affairs.
The dance school has been promoting cultural dance education, and has always focused on efforts to promote peace, harmony and tranquility through dance. From 1975 to-date the institute has sponsored and presented more than 1000 cultural presentations /performances with the participation of students. The main aim is to safeguard the traditional dance forms of Sri Lanka and to promote students for healthy competition in dance arts, singing and cultural activities.
Guru Rajini should be so proud of the fact that her Institute has produced more than 200 Ves male dancers. This dance depicts the oldest forms of upcountry Kandyan dancing and over 85,000 students have been through rigorous training and qualified to professional standards. All of them successfully completed the course of Gandarwa Scheme and G.C.E. Advance Level. Out of them approximately 300 – 400 students are now teaching in Government schools as well as in International schools. They are giving their expertise not only to Sri Lanka but also to countries such as U.K., Australia, Japan, India, Italy, France, Germany etc. promoting cultural exchanges with other countries and people.
Harindra Rodrigo, Guru Rajini Selavanayagam's husband has been a tower of strength to the Institute. In celebration of their 40th anniversary, the Rajini's Dance Academy will present a grand dance pageant – "Vidarshana" on September 26 at 6 p.m. at Sugathadasa Indoor Stadium, Colombo.