'Victorias LXXX'
View(s):

Celebrating Eighty Years of Dedication 'Victorias LXXX', a Dinner Dance organised by the Past Pupils' Association of the 'Convent of Our Lady of Victories' Moratuwa, will come alive on Friday 25th September at the 'Empire Ballroom' of the Mount Lavinia Hotel, from 7.00 pm.

This is an evening of celebrations to commemorate 80 years of dedicated service of the PPA of the OLV.
The organising committee has put in much effort to make this a memorable evening, with toes tapping to the beat of 'Nalin & Friends' and DJ Lakshan and an enticing guest performance by Dushyanth Weeraman and his dance troupe. The ambiance of the evening will be heightened by the evergreen compeer Faizal Bognso.

The evening is lined up with unforgettable events with a hint of 80's flavour; ensuring to add luster to the evening.
The 'Victorias Queen' will be crowned and would walk away with exciting prices, and the best '80's Dressed' will also be rewarded.The winners of the 'Baila Completion' with a touch of Moratuwa flavor will surely be a tough challenge; to be rewarded handsomely.

'A photo booth will be there to capture your favourite moments with your batch mates or your family will add colour to your memories' said a spokesperson from the PPA of OLV.  The attractive giveaways from airline tickets, electrical appliances and other valuable gifts will be star attractions of the event.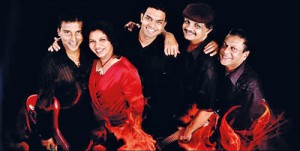 The grand raffle draw initiated by the association to raise funds for the building renovations of the school, will also be drawn at this event. The raffle draw though initially was scheduled to take place on 5th September 2015 has been re-scheduled to be drawn at this significant event, and ticket sales will take place until the day of the event; 25th September 2015.
'We draw the attention of all Past Pupils and friends to reserve your tickets and walk down memory lane at this eventful evening of celebrations'she added. The Association sends out an earnest request to the OLV community, friends and families, to purchase tickets of the Grand Raffle Draw, which is to fund the renovations of the Chapel and the buildings of the school, in preparation for the 130th year anniversary celebrations in 2016.
Tickets are limited and are priced at Rs. 3,000/- per head, inclusive of a sumptuous dinner.
Raffle Tickets are priced Rs. 100/- with 20 tickets in a book (Rs.2,000/-).