The De Lanerolles promise a show of all shows
For the first time the brothers will perform in Colombo with a 11-member musical ensemble
View(s):
The De Lanerolles are back for the third time this year with a special concert at the BMICH. 'Keeping It Real' is their first ever concert with a musical ensemble in Sri Lanka, so you won't be surprised to hear that the show is almost sold out – grab your balcony tickets fast if you don't want to miss out.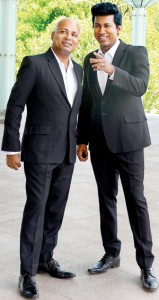 Rohan and Ishan De Lanerolle have charmed their faithful audiences for well over six years now; the brothers are an act that never fails to draw in the crowds- perhaps for the simple reason that this is a duo that knows exactly what their audience wants and delivers it with no holds barred. It's for this reason that this concert will also make no cutbacks – an impressive assortment of 11 musicians will perform with a host of instruments for a concise, but content-rich 90 minute show.
"It's going to be a fantastic show," promises director Shobi Perera. "I've been suggesting this for some time so I'm glad it's finally coming to light." Shobi has taken the reins for many a De Lanerolle show with the music, as the brothers generally perform over an audio music track when it comes to their shows in Colombo. For this show he's also very excited to finally be able to enlist-"with no budgetary restrictions"- an ensemble of some of the best musicians in the country, and instruments that will include some unusual ones: for example, the auto harp (a string instrument with a series of chord bars). Shobi himself will also be on stage with the electric bass.
Why exactly haven't they enlisted live music for a show before? Both De Lanerolles are sticklers for punctuality-anyone who has been to a show will know that if these guys say the show starts at 7 pm, it'll start at 7 and not a minute after ("otherwise it's not fair on the person who turned up on time, no?" they've said). Their audiences too have adapted, filling a hall ten minutes before the show is set to begin. That precision is hard to maintain, we're told. "We have some absolutely fantastic musicians here but often it's very stressful for the two of us to work with live instrumental music," explains Rohan."It's much easier for us to have the music recorded prior to the show – visually, it's not ideal but logistically it works very well."
This time, they've enlisted Shobi's help to ensure that everyone stays on track, including themselves. The criteria they set for the director's choice of musicians was simple, but thorough-no hidden agendas and a love for entertaining the audience. "Our audience is very important to us," affirm both brothers. "They're the ones who are going to show up and sit through 90 minutes of the music- we want it to be memorable."
Both brothers are confident in the group they've assembled, that includes Shobi Perera on Bass guitar, Neville Davidson – lead guitar, Thilak Samarakoon – drums, Nuwan Galappaththi – keyboards, Melissa Pereira – piano, Nalaka Jayasinghe – Spanish guitar, auto harp, saxophone, Guyrika Weerasinghe – percussion, Surekha Amerasinghe – flute / violin, Naveen Fernando – trumpet / brass, Kalum Nishyantha – trumpet / brass and Sugath Weerasekara – trombone / brass. The music will span a wide range of genres. Expect to hear the usual hits -Engelbert Humperdinck, The Righteous Brothers, Elton John- but also a few surprises, say the brothers.
'BMICH Presents the De Lanerolle Brothers-Keeping It Real' happens on September 14 from 7.30 p.m. at the Bandaranaike Memorial International Conference Hall. Tickets are available at the Commons, Park Street Mews and Dialog Iconic (Union Place).