Sunday Brunch at 'FLOW' with global cuisines
View(s):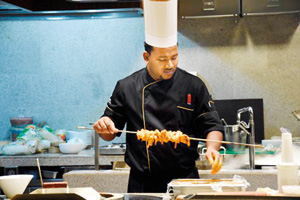 'FLOW', the all day dining restaurant at Hilton Colombo Residencies announced the launch of its Sunday Brunch on 6 September 2015. Serving cuisines from around the globe, offering promotional beverage packages and having a designated kids' 'playzone', FLOW is the destination for a leisurely brunch designed for friends and family.
FLOW, an all-day dining with an open kitchen concept that is a first of its kind in Sri Lanka with seating for 168 guests, will offer the Sunday Brunch at LKR. 3,500 nett per person; a promotional package inclusive of special beverages is priced at LKR. 4,950 nett per person.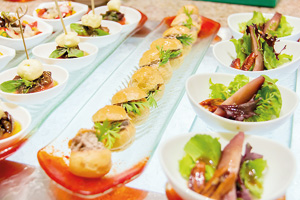 The kids' 'playzone' will include an activity area with bean bags, a PlayStation® 4 and other games to keep the children enthralled as adults enjoy the cuisines from the five open kitchens. The children will also have a 'kids' buffet section' to choose from.
FLOW is already on its way to paving itself as a destination for dining with five open kitchens that include a Chinese wok, Tandoori oven and Zesti oven, perfect for meat lovers. Executive Chef Priyal Wijesuriya, who has played an integral part since its design phase says that his Team is very passionate about the restaurant and enjoy the vivid offerings served in this all day dining restaurant, 'The brunch will include some of the favourite cuisines such as Japanese, Chinese, Indian, Sri Lankan and western; our focus would be to retain the cuisine's authenticity, freshness and consistency. With the variety of dishes being offered, you are sure to find something you would love'.
Wijesuriya has been the executive chef of Hilton Colombo Residencies since 2008, and has been involved in spear-heading the launch of the Union Ballroom in 2012, the launch of BASICO (bar lounge) in 2014, and placing HCR on the map for dining.
Launched in August, one of the unique traits of this restaurant is that it allows guests to watch their meals being prepared by chefs in the five open kitchens in a contemporarily-designed space.
For further information, contact FLOW on 0-115-344644 extension 635.