Have your tissues ready for Les Miserables -Jerome
By Smriti Daniel
With new faces, new acting techniques and modern technology being introduced, the Workshop Players' founder and director feels this production will outshine many of their past musicals
View(s):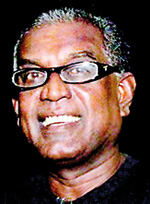 When Jerome L. De Silva announced that the Workshop Players would be staging the celebrated musical Les Misérables, he found their auditions inundated with exciting talent. "This cast is about 70 per cent new people," he tells the Sunday Times, adding, "and we've never had such good voices before, not even for Phantom [of the Opera]." While De Silva has never been short on talented lead actors, this abundance has translated into an ensemble that he is certain will outshine all but a few previous productions. And if there was a time to pull off this trick, it is now, with the first official amateur production of Les Misérables in Asia.
With rehearsals going "extremely well," De Silva, a seasoned director, is unabashedly excited about opening night. As usual, he is working with some of the Workshop Players most experienced members, trusting Surein de S. Wijeyeratne with the music and Shanuki de Alwis with choreography.
The musical is based on the book by Victor Hugo, with music by Claude-Michel Schönberg, original French lyrics by Alain Boublil and Jean-Marc Natel, and the English-language libretto by Herbert Kretzmer. The production aims to do justice to a soundtrack that is as remarkable as it is challenging. "This is a highly emotionally charged play, and the most dramatic thing we've ever done," says De Silva. The director has taught his cast new acting techniques such as thought-tracking to help them bring authenticity and genuine emotion to the stage.
He says his own obsession with Les Misérables began with Hugo's book, and has been fed by the numerous stage and screen adaptations he has encountered since. Interestingly, it was his impatience with the 2012 film version, starring Anne Hathaway, Russell Crowe and Hugh Jackman, that inspired him to produce Les Misérables for a Colombo audience.
He's keenly aware of the impact that production elements, like that of the revolving stage which he describes as "absolute poetry", have on audience perceptions. But De Silva and the team want to up the ante with modern technology like video mapping which they will use to project a unique backdrop. The images will be based on Victor Hugo's original paintings and will help create the bleak atmosphere Les Misérables is famous for – "this will, literally, be a very dark production," promises the director.
De Silva confesses that he is certain the play will find wide appeal with local audiences – "there are very few chances of failure," but this he attributes not just to his long experience but to the work of a team at the top of their game. Actor, director and all-round theatre expert Javin Thomas is coordinating the whole project.
The production will also invite back old collaborators like Jo Jo, who was responsible for the costumes in the Phantom of the Opera. "The love she puts into making those costumes is remarkable, in fact this production is overflowing with passion; I see the love that actors with even tiny roles are putting into it. I think that's why it's going to be well worth seeing," says De Silva, ending with a final piece of advice: "I suggest people bring a few tissues along."
Les Miserablés will go on the boards of the Lionel Wendt from October 1 – 11. Tickets are priced at Rs. 3500, 2500, 1500, 600 (Balcony) and will be available along with the box plan from September 15.