Letters
By Tissa Devendra
View(s):
Some guidelines to elect better representatives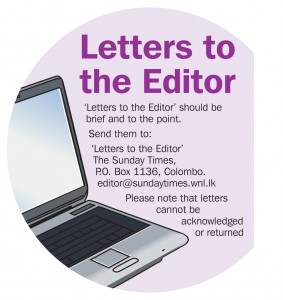 With the upcoming elections, political parties are busy finalising the lists of nominees. Some parties have declared that nominations will be given only to those with good 'track records'.
The voters are in the dark as to how the prospective nominees are screened. Reports indicate that candidates selected are popular vote 'catchers' with politicians who have already held parliamentary seats leading the districts. It is unlikely that many of the former MPs would be discarded by the main political parties. Under such circumstances, there is no guarantee that the nomination lists will consist only of untarnished candidates.
So the voters have a primary duty to select the best out of the long list for the district. If only the 20th Amendment had been passed it would have made the voters' task easier to select a candidate from the short list for a given electorate.
It is, therefore, imperative that parties should publish a brief resume of candidates, giving their educational background, the occupational history, their involvement in social activities, their clean record with the police, their present assets and other salient details to help the voter to select the right candidate through the preference votes.
It is also necessary to prevent unscrupulous elements who have plenty of 'black' money from funding their favourite candidates. Once elected the MPs have to please those ruffian sponsors as a show of gratitude.
In the run-up to the elections, the responsible state officers have to play a vital role without bending to unfair requests from the candidates. Also voters should not attend political rallies even if they are held in the guise of religious functions. At least the younger voters are sufficiently enlightened not to be swayed by political outcry. This time we can expect a fair use of state media under the present President.
Although not fool-proof, these steps, I believe, will help us to elect better representatives to the next parliament.
A.G. Abeysinghe Gampaha
Chuck-gudu dates back to Buddha's days
Mahendra Samarasinghe's letter (the Sunday Times of July 5) on the demise of chuck-gudu reminded me of that game's many thousand year history.
Buddhist scholar Dr. B.C. Law wrote to the R.A.S. journal in 1950 on 'Occupations in the Buddha's Day'. Writing of the games of that era, he refers to "players with balls and those hitting a short stick with a long one". This clearly refers to chuck-gudu. It is a tragedy if this millennium-old game is no longer played.
T.D.
Via email
Let people know where Wi-Fi zones are
We were told that the present government had set up Wi-Fi zones in certain public areas. This means that people could make use of it free of mobile-phone charges.
A good number of smart phone and computer (lap-top) users may, however, be unaware of this offer. Wi-Fi obtained in this manner would enable one to read or watch foreign news on BBC, CNN and other channels, check e-mail, send and receive pictures and video. Hence it will be of use to the public if these areas are made known to the public in some manner.
Tudor Wickremasinghe
Colombo 7
Children missing outdoor fun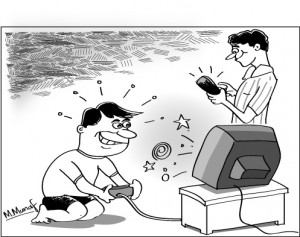 Children today are growing up without knowing simple outdoor pleasures such as splashing in puddles and mud, building sand castles on the beach, climbing trees and playing hide-and-seek with friends or family members.
Outdoor activities are becoming a thing of the past as children spend their time on their computers, watching TV or pressing buttons on their mobile phones; leave alone the never-ending school homework and private tuition. In the good old days, our life was adventurous devoid of the modern day electronic devices. While travelling by public transport or cycling about we explored the wonders of nature and enjoyed seeing the world pass by, enriching us with childhood memories never to fade away.
It could be argued that one cannot lead a life without the modern electronic gadgets but definitely there is a difference in reading the daily papers seated in an armchair rather than surfing the web.
Parents take note – friends who play together stay together.
Kanagar Raveendiran
Wellawatte
Foreign letters lost in the post
Letters sent from overseas are often lost in the post. It appears that unscrupulous employees in the Postal Department throw away the overseas letters after opening them to see whether any valuable items are in them. This has happened to a number of people and it is time that the relevant authorities investigated this matter and punished the culprits.
K.G.M. Perera
Nugegoda
Howlers galore!
I was much amused to read 'Catch the howlers' by David Williams of Kotagala.
As a teacher of English, I come across many errors in articles in English newspapers and 'howlers' too many to mention.
The worst was found in a colour glossy leaflet done by a well-known hospital.
"Look after your loved once" (ones). As Mr. Williams asks, how do these errors get past the 'proof readers'? A hospital administration not to notice this mistake is unbelievable!
R. Goonewardene
Dehiwala
The sting of the spelling bee
A news item published in your newspaper last week prompted me to point out some English spelling mistakes observed by me in some most unexpected places:
A newly built library in our neighbourhood was named "LAIBRARY".
The name of a welfare shop run by one of the services read as "WELFAIR" shop. On my pointing it out they corrected it promptly.
All the three-wheelers within a police area were issued with a label containing a registered number which needs to be displayed prominently on the vehicle. It read: "Treewheelar Association".
A leading temple in the area had constructed enclosures separately for men and women to change clothes after bathing in the stream in the vicinity. Each enclosure was, for quite some time, meant for "Ressing". This error has now been corrected.
It is understandable that errors do occur in certain printed matter, but when some flagrant mistakes appear even in books meant for learners of English language, then indeed it is pitiful.
R. Dharmalingam
Velwettithurai
There were many who did their bit
for the development of Thanthirimale
The contents of paragraph 3 of the article titled Thanthirimale: It's recent and ancient past published in the Sunday Times Plus recently makes the readers believe that Ven. Kudakongaskade Vimalagnana Thera ventured out on his own in the 1960s to Thanthirimale with just a loaf of bread and a bottle of water given to him by an anonymous bus driver plying his vehicle on the Villachchiya road. That position does not appear to be correct as there is documentary evidence to prove that the Ven Bhikkhu was accompanied by the Government Agent of Anuradhapura and escorted by the Kachcheri staff and shramadana workers from Anuradhapura and Mahavillachchiya.
There is a printed first person detailed evidence available of the Ven. Bhikkhu's commencement of his pioneering religious activities at Thanthirimale in the chapter on the reminiscences of U.B. Wijekoon who was the Divisional Revenue Officer of Vavuniya South Sinhala Division during the period 1961 – April, 1966.
Mr. Wijekoon was later elected as a Member of Parliament for Dambadeniya Electorate (1977 – 1979). District Minister for Jaffna (1974 – 1988), and Cabinet Minister for Public Administration, Provincial Councils and Home Affairs. (1989 – 1991), and as an Ambassador of Sri Lanka in the Russian Federation during the period 2003 – 2004.
The relevant extract from the reminiscences of Mr. Wijekoon contributed by him to the book D.R.O (1939 – 1963) Man for All Seasons edited by L.M. Samarasinghe and others and published by SANASA in May 2013, is reproduced below for the information of readers:
"My greatest satisfaction is derived from the initiative I took in the development of the historically and religiously important Thanthirimale. Here, I am grateful to Mr. Nissanka Seneviratne, who introduced me to the place. One day, the late Mr. Seneviratne when he was the Government Agent suggested that we should visit Thanthirimale, situated in the Anuradhapura District, but close to Chettikulam in the Vavuniya District.Accordingly, Mr. Seneviratne accompanied by a few of us made the trip in October 1962. It was a difficult journey and we had to trudge over ten kilometres from Chettikulam across Malwatu Oya. Thanthirimale was so beautiful and fascinating with a rock extending over one hundred acres situated in the centre of a thick jungle and with no habitation for mile on mile. The Bo Tree supposed to have been planted in the 3rd century B.C., stood majestically on top of the rock. There were many ruins of religious and archaeological value spread all over the rock.
When Mr. Hemasiri Premawardene succeeded Mr. Seneviratne as Government Agent, I gave him a description of Thanthirimale and suggested a visit there. On our trip this time with the new GA, Rev. Wimalagnana Thera, a young Buddhist monk from the Chettikulam Temple also accompanied us. After returning from Thanthirimale, the young priest made a surprising proposal expressing his desire to take up residence at Thanthirimale. Although the task was formidable, his keenness was so great that ultimately we agreed to comply with his request.
A shramadana was organised, a pathway constructed, a temporary hut put up, and the young monk was settled. Fortunately, there was a natural pond full of water in the premises. On that historic day, all participants in the shramadana, including the GA, spent the whole night on the rock. It was a memorable experience.
The young priest proved to be a brave and courageous innovator. He showed his hidden capabilities within a year by a well thought out programme for the development of the whole area around Thanthirimale.
The transfer of Mr. Premawardene from Vavuniya to Anuradhapura was a blessing. The GA was able to assist the young priest in all his endeavours. All abandoned tanks were reconstructed and thousands of people were settled. Pilgrims from all over the country started visiting. New buildings for the temple were built, a pirivena was established. When I visited the place recently, in August this year, I was thrilled with the development and the changes that have taken place during the last four decades. I was really proud and happy.
After five years, the Ministry decided to give me a transfer, and posted me to Dambadeni Hatpattu Division in Kurunegala District from May 1, 1966. My former Boss, Mr. H. S. Wanasinghe, happened to be the Government Agent in Kurunegala.
Dhambadeni Hatpattu was quite a contrast to the V. S. S. D. It covered three electorates and I had the opportunity of associating with three Members of Parliament: M. D. Banda at Polgahawela, D. B. Welagedera at Kurunegala and R. G. Senanayake at Dambadeniya. The area was more developed than Vavuniya and the people were more educated. Here too, I performed my duties with dedication and won the people's hearts and their admiration, which ultimately paved the way for me to enter the field of politics and eventually enter Parliament."
W. Panditaratne
Kandy