Thousands of fish die in Beruwala canal
View(s):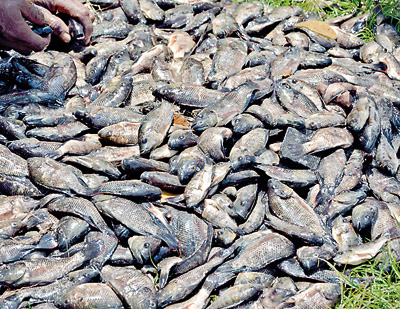 Recently thousands of dead fish were observed floating in the Siliye main canal at Maradana in Beruwela. A team of Public Health Inspectors (PHIs) who went to determine the reason for the mass deaths of the fish were appalled to see crowds of children and young people fishing in the muddy riverbed.
ThePHIs warned them against staying in the muddy riverbed pointing out that there was a grave threat of contacting Leptospirosis which is spreading in the area. Commenting on the possible reasons for the mass death of the fish, the PHIs said they suspected it was due to sea water entering the canal. They emphasised that fresh water fish could not survive in brackish water.
Gamini Samaratunge -PHI Administration for Beruwela- said fishing in the canal had now been prohibited due to the health risk. He added that the exact cause of the death of such large numbers of fish would be known soon. Gamini Samaratunge was assisted by PHIs W. Nirosh, W.S. Umeka, and W.F. Karunaratne.
-Sarath Sairiwardhena