Mercedes Benz pageant showcases over 35 models
View(s):

The Mercedes-Benz pageant took place on a grand scale at the BMICH in Colombo coinciding with the 25th anniversary of the Mercedes-Benz Club of Sri Lanka.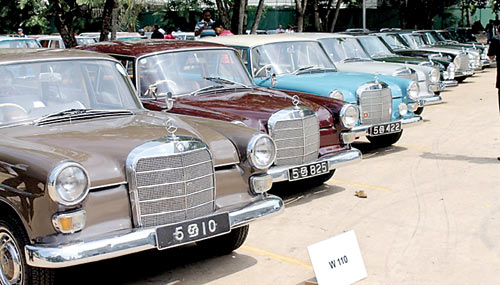 The pageant is an annual event organised by the Mercedes-Benz Club of Sri Lanka – a club consisting of die-hard like-minded automobile enthusiasts who have an extraordinary passion for the three-pointed star.
"No other automobile franchise in Sri Lanka can boast of an event such as this, and no other luxury car franchise can come even close to having this many classic and young-classic cars being displayed in one venue," Ranjith Pandithage, Chairman and Managing Director of Mercedes-Benz authorised distributor in Sri Lanka, Diesel and Motor Engineering PLC (DIMO) said.
The one-day event was aimed at showcasing vintage cars as well as newer models that are brought into the island.
Car owners were also awarded for good maintenance at the pageant. The event was organised by the club and DIMO.
This was probably the only event in Sri Lanka, where over 500 Mercedes-Benz cars, its owners and their families' get-together for fellowship at one location at the same time.
This year's Mercedes-Benz Pageant showcased over 35 models from the pre-war era to the latest S-Class, E-Class and GLA-Class including the legendary AMG models. DIMO also displayed its new Mercedes-Benz range and DIMO Premier (pre-owned) vehicles at the event.
The club was initiated in May 1990. The first committee was headed by Ray de Costa, while the committee members were H.C. Peiris, Nigel Austin, Charles Gunasekara, Freddie Alles, Milinda Hettiarachchi, Ranjith Pandithage, Darmin Perera, G G Ponnambalam and S. R. Vamadevan. It has organised many other activities apart from the Pageant – which included annual Charity events, publication of the Mercedes Calendar and fun rallies / Mercedes Rallies (Star Drives).