Toothless NBRO challenged by new landslide
By Nadia Fazlulhaq
View(s):
Six months after the Meeriyabedde landslide tragedy, this week saw another slide covering almost six acres close to the same area.
The landslide occurred on Monday morning in the Nikapotha area in Haldumulla, an area still not identified as high-risk by the National Building Research Organisation (NBRO).
Fortunately, no casualties were reported as the area covered a rubber estate.
The Disaster Management Centre said 65 people from 20 families were affected, with byroads to the rubber estate being swept away by the landslide.
By Friday, only nine families were in safe locations as their houses were deemed to be located in a landslide risk area, DMC spokesman Pradeep Kodippilli said.
Head of NBRO's Landslide Research and Risk Management Division R.M.S. Bandara said investigations were underway to determine the causes of the landslide and what measures need to be taken to mitigate the risk of further earthslips.
"It was a newly-cultivated rubber estate in what used to be a forested area. Last week, this area received heavy rainfall as well. Therefore we are seeing whether the landslide was caused by the high intensity of rainfall or land use," he said.
Though construction work in high-risk areas has to undergo approval from the NBRO, some villagers continue clearing forest cover for cultivation purposes without the NBRO's knowledge.
Mr. Bandara said a report on this incident had been compiled and a number of recommendations made. "We will suggest diverting three water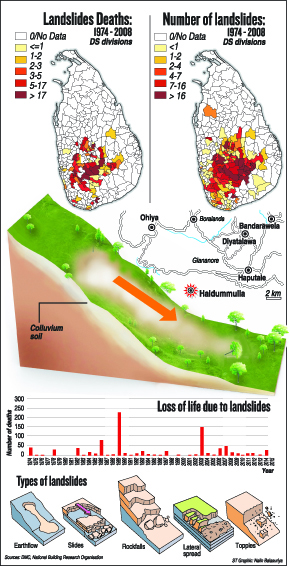 drains that travel across loose soil," he said.
The NBRO is yet to be granted authority to enforce measures and is limited to suggesting remedies to relevant authorities.
Mr. Bandara said there was a need for new mapping in the area as it was not identified as a landslide-risk area due to forest cover.
Mr.Bandara said the Haldumulla slope is considered high-risk as colluvium soil (loose earth material that moves downhill and accumulates at the base of a slope) is present in the area.
"From Balangoda and Haputale to Koslanda this slope is prone to landslides. It is impossible to evacuate everyone living here. Therefore it is important to continue with awareness programmes," he said.
Between October 20 last year to March 24 this year, 4,811 families living in landslide-risk areas have been evacuated.
In Badulla district there are 795 risk areas, 1,383 in Nuwara Eliya, 505 in Kandy, 361 in Kegalle, 367 in Matale, 53 in Kalutara, 112 in Ratnapura and 184 in the Matara and Hambantota districts.
Meanwhile the NBRO has issued a warning to areas in the Ratnapura, Kandy, Badulla, Kalutara, Matara and Galle districts.
It said all mountainous areas, man-made cut slopes and roads within the Ratnapura district, especially in Balangoda, Elapatha, Imbulpe,Pelmadulla and Kalawana, are at risk of landslides.
Similarly, Udu-Dumbara, the Kandy-Mahiyangana road, Badulla, Bandarawela, Ella, Haldumulla and Passara in the Badulla district are at risk of landslides. The NBRO warned motorists travelling along the Ella-Wellawaya road to bewaree.
Bulathsinhala and Ingiriya in the Kalutara district, Kotapola, Pasgoda and Pitabeddara in the Matara district and Neluwa and Tawalama in the Galle district are also prone to landslides if intense rain continues.
The extent of damage in Haldumulla was assessed with the assistance of the Air Force. Air force Spokesman Wing Commander Gihan Seneviratne said Bell 412 helicopters from SLAF Base in Ratmalana carried out an inspection operation. Badulla District Secretary Nimal Abeysiri said prepared food and dry rations have been provided to families affected by the present landslide.
"Nine families have to be moved out. Once the investigations are completed, measures will be taken to support the families to relocate," he said.
Emeritus Professor of Geology Kapila Dahanayake told the Sunday Times that people continue to erect buildings and cultivate in old landslide areas, resulting in the re-activation of landslides due to loose soils.
"Demarcation of risk zones with the assistance of experienced personnel is essential," he said. "This will help to reduce casualties and damage. Locations should be identified while looking into factors such as high-intensity rainfalls."
Professor of Geography V. Nandakumar said intensity in the weather pattern was occurring with climate change.
"In developed countries, dangerous or high-risk zones are marked and development is restricted," he pointed out. "Temporary high-intensity rainfall above 100m can trigger landslides."
Prof. Nandakumar said land use and rainfall changes should be monitored closely, especially in landslide-risk zones. The Meteorology Department warned of showers and thundershowers during the day and night as well as temporary localised strong winds during thundershowers in the coming week.
Meeriyabedde families still without homes
Grief-stricken families who lost their loved ones and houses to last year's Koslanda, Meeriyabedde landslide still wait for the new homes they were promised, almost six months after the tragedy.
The landslide that took place in Haldumulla divisional secretariat in Badulla district on October 29 last year took away more than 30 lives, with bodies of about 12 people found. About 75 students of Ampitiya Estate, who were at school at the time of the incident, lost parents.
Among the 63 buildings destroyed were houses, kovil, community centre, dairy collection centres, telecommunication centre, three estate bungalows and shops.
Badulla District Secretary Nimal Abeysiri said though there was a delay initially, 75 houses are currently under construction, with each house to be located in a seven-perch plot. Construction work is being co-ordinated by the District Secretary with the assistance of the Urban Development Authority and the army.
Residents of Meeriyabedde say the housing project is still at foundation level. The location of the housing scheme was changed following the public's request and now is being built in Makaldeniya-Poonagala area.
The District Secretary said 81 families are presently housed at Mahakanda tea factory. The Sunday Times learns that more than 300 persons are living there in crowded rooms.
The Director of the Disaster Management Ministry's National Disaster Relief Services, A. Wimalaweera, said although food and essential items had been provided, financial compensation had not been paid to the victims.
The decision to build new houses had been decided by a Cabinet-appointed committee with a number of ministries.