Buyers bolt from hybrid cars
By Chrishanthi Christopher
Small car sales soar while 80pc tax hike flattens hybrid market
View(s):
Sales of hybrid cars have dropped dramatically following the tariff rise of 30 per cent on all hybrid vehicles in the new government's interim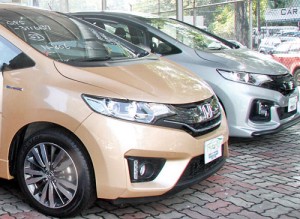 budget.
The Ceylon Motor Traders Association (CTMA) says hybrid vehicles sales have dropped by half since January 2015 when the government slammed an 80 per cent tax on hybrid vehicles.
The tax made hybrid car prices jump by Rs. 600,000-2.5 million from the pre-budget price, CMTA Chairman Gihan Pilapitiya said
The CTMA said hybrid car sales companies were finding it difficult to dispose of their stocks. Showrooms are saddled with the hybrid cars ordered before and just after the interim budget.
Mr. Pilapitiya said the tax hike had a greater impact on used hybrid vehicles compared to brand new cars as most demand was for used cars.
The Vehicle Importers Association of Sri Lanka (VIAL) said the popular hybrid car market had almost frozen.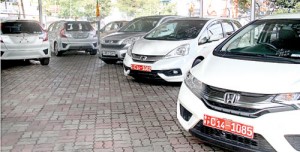 The tax increase had come as a shock to the market and pushed up prices by more than Rs. 1m, VIAL Co-Treasurer Nishantha Perera said. A hybrid car that had sold for about Rs. 4.2m was now Rs. 5.4m.
"Customers are not prepared for this overnight jump," Mr. Perera said.
Mr. Perera, who owns St Anthony's Traders in Kelaniya, said he still had 15 hybrid cars imported before and just after the budget on his hands for want of buyers.
The situation had been exacerbated by the budget's tariff reduction on smaller cars. "With the government slashing the tariff on the Maruti and the Suzuki Alto, many customers are opting for the smaller cars," he said.
An emerging trend is that the tax increase is creating a monopoly for big players, with small-time importers moving away from the market as they are unable to face sharp fluctuations in consumer demand.
"Small companies and individuals who import and sell cars are no longer finding it a profitable venture," Mr. Perera said. "This would create a monopoly and arbitrary jumps in prices in the future."
The importers hope the market will adjust itself. A silver lining in the dark cloud for hybrid car importers is that the value of used cars in Japan has decreased by more than Rs. 250,000 due to slow demand for used hybrid cars in Sri Lanka.
"This concessionary price also could be passed on to the customer," Mr. Perera said.
Sathosa Motors Chairman Tilak Gunasekera said the government's move to increase the tax on hybrid cars lacked sense: the increase did not serve any purpose, he argued.
Mr. Gunasekera conceded that a 10 per cent tax hike on hybrid cars would have been appropriate given the 15 per cent saving on fuel bills.
He also said the government's move to cut by 1 per cent the tax on small cars less than 1000cc capacity had brought in a flood of vehicles and Colombo roads could not cope with the traffic.
Mr. Gunasekera said the demand for the Maruti and Suzuki Alto had skyrocketed and importers were unable to meet demand. "What was selling around 300 units has jumped up to 1500 units, with many on the waiting list," he said.
Finance Minister Ravi Karunanayake had held discussions with hybrid car importers but no relief had been granted, importers said.