Nishan fastest at Mahagastota
View(s):

Nishan Weerasooriya clocked 34.17seconds to become the fastest driver in the 81-year history of the oldest hill climb in South East Asia, at the Mahagastota Speed Hill Climb which concluded on a high note at Blackpool in Nanu Oya on Easter Sunday.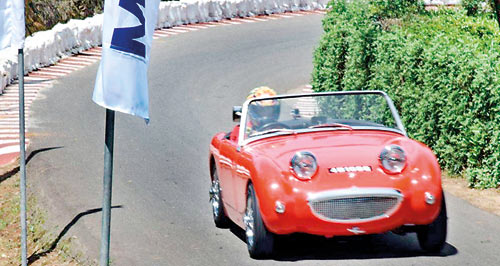 Weerasooriya, driving a Finco Evolution 2000cc turbo, broke the previous course record of 34.348 seconds established by Darin Weerasinghe. Weerasinghe had to eventually finish at second. Competing in the SL GT event, Weerasooriya drove without a flaw in his second run to break Weerasinghe's course record.
Meanwhile in the motorcycle category, Sampath Weerasinghe showed his class to return a record timing of 34.854seconds. This was the third year in succession that Weerasinghe had registered the fastest timing of the day in motorcycles and also the course record for two wheels.
Veteran driver Rohan de Silva won the Formula Car 1665cc event with a timing of 35 plus seconds. This achievement bettered his personal best timing which was the overall course record at the Mahagastota Hill Climb three years ago.
The SLA Modified Cars event was won by Mahen Madugalle who recorded 43.131seconds in his Mini, followed by Hafiz Carder who clocked 45.61seconds.
Then in the event for Motor Cars SLS group up to 1500cc event, which was won by Madhushan Mannapperuma, driving a Honda Civic. A significant fact was that his father, the oldest racing driver in Sri Lanka, 67-year-old Sumanapala Mannapperuma finished third. Devinda de Silva was placed second.
The event attracted over 130 entries and was proceeded by a Classic Parade on Saturday. The annual event organised by the Ceylon Motor Sports Club (CMSC), was sponsored by McFoil and Mobil of the McLarens Group.
Scoreboard
Cars
One Makes Class – Ford Laser/Mazda 323 up to 1300cc: 1-Janith Kumarage, 2-David Siyaguna, 3-Tharuka Ratnayake
One Makes Class – Ford Laser/Mazda 323 up to 1500cc: 1-Tharindu Dharmaratne, 2-Kumar Samarasinghe
Formula Cars up to 1665cc: 1-Rohan de Silva, 2-Dinesh Jayawardena, 3-Viren Boteju
SLA Modified Cars – Mini 7: 1-Ravin Vannithamby, 2-Namal Silva, 3-W.N.S. Tissera
SLA Modified Cars up to 1050cc: 1-Mahen Madugalle, 2-Hafiz Cader, 3-A.S. Priyashantha
SLAS Homologated Cars up to 1600cc: 1-Numan Faham, 2-Shehara Jayawardena, 3-A.S. Priyashantha
SLGT Touring Cars up to 3500cc: 1-Nishan Weerasooriya (NR), 2-Darin Weerasinghe, 3-Dinesh Jayawardena
SLS Specials up to 1500cc: 1-Madushan Mannapperuma, 2-Devinda de Silva, 3-S. Mannapperuma
Formula McLaren 1300: 1-Chandima Goonaratne, 2-Viren Boteju, 3-Ayesh Bandara
Motorcycles
Group O Standard Motorcycles – Over 100cc up to 125cc (4 stroke/Mono Cylinder): 1-Andrew Shihan, 2- C.A. Prabath, 3-Vijitha
Group O Standard Motorcycles – Over 125cc up to 160cc (4 Stroke/Mono Cylinder): 1-Ananda Sampath, 2-Ganesh, 3-G. Vinoth
Standard Modified Motorcycles – Open including 250cc (4 Stroke): 1-B.M.W.A. Reza, 2-Heshan Pasindu, 3-H.G. Nipun
Standard Modified Motorcycles – Open including 125cc (2 Stroke): 1- Shane Silva, 2-Ganeshan Vijayakumar, 3-Heshan Pasindu
Street Trail over 100cc up to 125cc: (2 Stroke) and over 175cc up to 250cc (4 Stroke): 1- P. Rajaguru, 2-S. Vasudevan, 3-M.H. Sarath
SM Super Motard 250cc: (4 Stroke): 1-Irantha Tharuka, 2-Sachira Geemath, 3-Dushan Muladige
Super Motard Open: (4 Stroke and 2 Stroke): 1-Ananda Sampath, 2-Sarath Kumarasinghe, 3-G. Vinoth
Motor Cycles 85cc: 1-Nimesh Sandaruwa, 2-Gihan Sanjeewa, 3-Buddhika Sandakelum
Racing Motorcycles 125cc: 1-V.T. Shantharam, 2-W.M. Sudara, 3-Wikum Ranjith