Malinga making steady progress
36th Bata-the Sunday Times Most Popular Schoolboy Cricketer of the Year 2015
View(s):
Malinga Amarasinghe of Nalanda College is making gradual progress indicating of becoming a threat to the incumbent leader St. Peter's College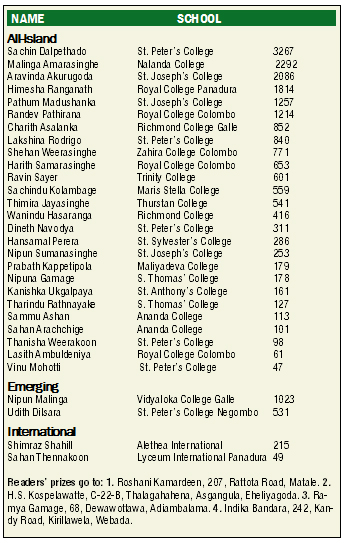 allrounder Sachin Dalpethado as the 36th Bata-the Sunday Times Most Popular Schoolboy Cricketer of the year 2015 contest reaches its seventh week. Sachin expanded his lead by adding further 965 votes to his tally giving himself a lead of 975 from Malinga in the concluded week. This is a clear indication that the race will hot up as weeks progress and the possibility of the leadership changing hands quite often will be a common occurrence.
Malinga created the biggest surprise of the competition so far by moving 11 slots up from the 14th to the third position last week. And this week, he has even made others in contention ponder of their progress and future in the competition. He has added 585 votes last week, enough in numbers to dislodge Aravinda Akurugoda of St. Joseph's College from the second slot and stand ahead of him by 206 votes.
At fourth, unmoved from last week, is Himesha Ranganath of Royal College Panadura, who held the lead for three consecutive weeks from the inception of the competition. So remain the others in their respective positions from last week. St. Joseph's College skipper Pathum Madushanka at fifth, last year's winner Randev Pathirana of Royal College Colombo at sixth, Richmond College's Charith Asalanka at seventh, Lakshina Rodrigo of St. Peter's College at eighth, Zahira College's Shehan Weerasinghe at ninth and Harith Samarasinghe of Royal College Colombo at tenth in the Top 10.
In the Emerging Schools category Nipun Malinga of Vidyaloka College Galle and Udith Dilsara of St. Peter's College Negombo remain at their respective slots from last week. Nipun has accelerated his way by surpassing the 1000 mark, but still the deficit between the two rivals is almost double the amount. Shimraz Shahill of Alethea International was the sole runner in the International Schools category for weeks but from last week Sahan Thennakoon of Lyceum International Panadura joined him. While Shimraz progresses gradually Sahan still remains at the same count he entered last week.
Due to the festival holidays the results of eighth week of the 36th Bata-the Sunday Times Most Popular Schoolboy Cricketer of the Year 2015 will not appear on the coming week's edition of the Sunday Times. Instead the results combined with the ninth week will be published on April 26.
Coupons of the 36th Bata-the Sunday Times Most Popular Schoolboy Cricketer of the Year 2015 will appear on Wijeya Newspaper's dailies, the Daily Mirror and Lankadeepa and also its weekend English issue, the Sunday Times and the Sinhala weekly Deshaya. Readers will be able to send in as much as coupons in favour of their favourite schoolboy cricketer until mid June.