The young cast of the British School of Colombo take on 'The Ash Girl'
By Duvindi Illankoon
Twist in the tale
View(s):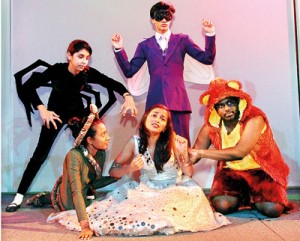 With an influx of Cinderellas running around Hollywood lately, the British School of Colombo couldn't have timed their production of Timberlake Wertenbaker's 'The Ash Girl' more perfectly. Directed by Angelo Pereira and Tracy Holsinger, the play promises to be one of intrigue and mystery, with its title character facing problems all too familiar to modern-day teenagers.
Ash Girl daringly takes an old favourite to make it relevant for young adult audiences. Insecurity, bullying, depression-Wertenbaker has tapped into a genre for her protagonist's back story and emerged the winner, crafting a play that will easily resonate with its audience, both young and old.
Ashie lives with her stepmother and stepsisters, and receives her invitation to the prince's ball. She wants to go, but can't; her fairy godmother turns up, she is transformed….the essence of the tale remains the same but it's really the delivery of it that will have you hooked, say the young cast. We spoke to some of the main characters to find out more.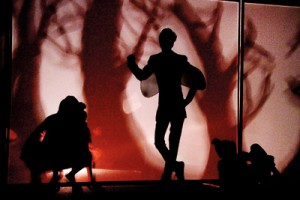 Playing Ash Girl is Monika Saleh, who says that the play reveals that the characters are largely misunderstood. "Ash Girl is in a situation she was put into by herself," she points out. She is alternatively happy and depressed -it may take some time for Ashie to realize that her biggest enemy is herself but she enjoys this take on a childhood tale. "Working with the cast has been fun as well," she smiles.
Playing Ashie's stepsisters Ruth and Judith are Talaayah Gunaydin and Nikini Mahaweera. While the original Cinderella portrays the step-sisters as little more than bad tempered young things enabling their mother's cruelty, this play gives the duo some much needed dimension, they reveal. For example, "Ruth is very clingy and sensitive," shares Talayan and Judith loves nature. Their mother, played by Saskia Wijewardene, may not turn out to be as moustache twirlingly evil as popular legend makes her out to be either. "She just wants what's best for her daughters," says Saskia adding that the challenge of dealing with a more mature Cinderella has been mitigated to a large extent by her well-versed directors.
We meet next Girl Mouse and Boy Mouse, played respectively by Shania Balapatabendi and Nirek Panditha. The duo are turned into horses for Ashie's carriage when she is ready to go to the ball; Shania says "Girl Mouse is very full of herself," while Nivek plays opposite-the shy, more laidback boy mouse.
How could we overlook fairy godmother, or in this case Fairy-in-the-Mirror? "I grew up loving the story," says Eefa Hassen, who has embraced happily the slightly eccentric, but well-meaning magical creature. "I'm a crazy person in general, so I think Miss Tracy knew what she was doing when she cast me in this role!" Fairy-in-the-Mirror is more Ashie's reflection in this take, almost the play's equivalent of the angel sitting on one shoulder. "I'm only able to help her when she's positive," explains Eefa. Ben Cockeram plays her nemesis sadness, the phantom-like presence keeping Ashie's happiness at bay.
At the end of the day Ash Girl must battle the Seven (or in this case Six) deadly sins, manifestations of her own doubts which take bodily forms as Angerbird, Slothworm, Pridefly, Envysnake, Greedmonkey and Gluttontoad. Swathik Ponnusamy (Greedmonkey), Azquiya Ususph (Envysnake) and Josh Cockeram (Pridefly) say that their characters are catalysts for Ash Girl's process of self-discovery.
Will Ash Girl overcome her doubts and insecurities? What of the mysterious Prince (who we're told has an equally interesting backstory) Watch the play from 26-28 March at the British School Auditorium to find out more. Tickets available at the school office.