'Arika Villa': Luxury in the jungle
By Sanath Weerasuriya
View(s):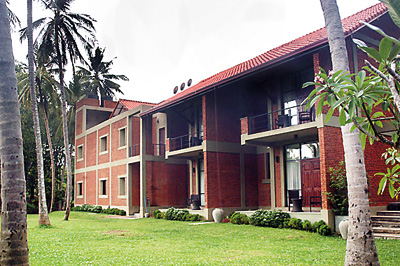 Newly built 'Arika Boutique Villa' is located just hundred metres away on a Puwakattawala village towards scenic east off A9 road that connects Matale to Dambulla and Jaffna. Just little over one year in operation, Arika Boutique Villa has gained the popularity amongst most of the foreign travellers visiting Cultural Triangle. Built on a land surrounded by a wild lush forest and one of the secluded getaway spots in the serenity of Sri Lanka, 'Arika Villa' is centrally located for all cultural and adventure excursion in the 'Triangle'.
Following the concept of the water lily, which this boutique hotel is named after, 'Arika Villa', is a two floored architectural creation by young architect Dinuk Senanayake. The structure is entrenched on the apparently raw but environmentally fitting brick walls; those encompass the luxury living within. 'Arika' is built around an indoor swimming pool overlooking the passing stream beyond the open deck.
Arika Villa has eight well appointed luxury large rooms with all modern facilities including tea-coffee making facility, mini bar, television with cable network, IDD facility and most importantly the availability of free wi-fi. 'We have four rooms on ground floor with luxury 'open to sky bathrooms' and four high roofed rooms on the higher level. Going with the 'green lines', most of the furniture is purely cement based and inbuilt to give it a natural perspective' said Manager S. Ararnath.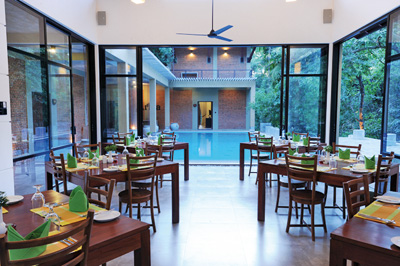 Apart from that, this luxury Villa boasts structural facilities such as a glass walled multi-cuisine restaurant to enhance a welcoming feel, a steam room for relaxation and TV-Karaoke lounge for entertainment. The swimming pool at the Villa is equipped with a Jacuzzi.
Having avoided damage to the surrounding environment as much as possible, the Villa also has a traditional Karandha tree indoors emerging from the courtyard. Going along the lines of a green concept again, Arika uses solar panels for water heating and recyclable materials for other aspects, to be eco-friendly.
Arika Villa is not just a hideaway for travellers, but an oasis for food lovers too. It caters from authentic Sri Lankan dishes to all Western, Continental and global cuisine on request.
'Our restaurant beside the pool caters to multiple cuisines and even gives the guests the option of making their own dish, where they could ultimately have their own meal within their glass enclosed walls or even take it out to sit by the open deck overlooking the stream or enjoy a BBQ' said Chef Suranga Weerakoon.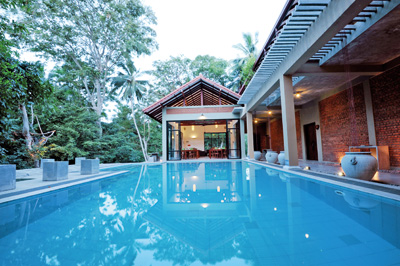 Arika Boutique Villa offers many excursions facilities to adventure travllers. Cycle tours through the jungles and the surrounding village to glimpse the local culture, jungle trekking for bird lovers and excursions to Sigiriya, Dambulla Rock Caves, Nalanda Gedige, Polonnaruwa and Anuradhapura ancient kingdoms, Namal Uyana, Ritigala, Minneriya and Kaudulla National Parks and Huruluwewa Sanctuary are some of the popular adventure excursions.
Arika Villa is managed by Zinc Hotels and Resorts Lanka (pvt) Limited under the guidance of veteran hoteliers Samantha Gunarathne and Kingsley Liyanage
The rates at 'Arika Villa' range from Rs 11,500/(BBD) to Rs 13,500/-(HBD) and Rs 16,500/- (FBD).
For more details call 0115289570-3, 0664935045, 0777371808 or log onto www.arikavilla.com