Reviving Easter traditions
"Alokayano"-A pioneering effort by Parish of Kotte
View(s):
Following the world renowned tradition of performing passion plays to remember the life, agony and death of Jesus Christ 'Alokayano', an Easter play is presented by the parishioners of St. Thomas' Church Kotte at 6.30 pm on Sunday March 29. This pioneering effort by the Kotte parish along with the Parish priest Rev. Fr. Anthony Fernandopulle for the Christian community of Colombo southern region will present for the first time.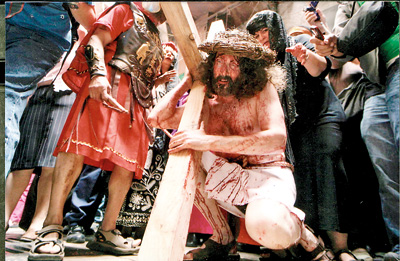 The biggest Easter programme of the year 'Alokayano' Easter play will be performed on a massive stage with a cast of more than 250 new actors and actresses at the outdoor arena of St. Thomas's college Kotte. The Christian affairs department along with the support of many other sponsors presents the Easter play which depicts the life, passion and death of Jesus Christ with a deep biblical and theological message combining with the modern theatrical technology.
Jehan Srikantha Appuhaamy, a talented stage actor will perform the role of Jesus Christ in Alokayano while Mary Magdalene's role will be performed by Sri Lanka's veteran award winning cinema actress Veena Jayakody. Alokayano script is written by Ajith Mendis and Sunil Costa under the direction and supervision of Rev. Fr. Cyril Gamini while makeup is to be done by Wasantha Wittachchi and many other professional makeup artistes.
Music manoeuvred by Milroy Dharmarathne the popular musician of the 1970s along with Kasun Liyanage. Together with actors in the play a choir will join the singing and their songs are written by lyricist Nuwan Liyanage. Anthony Adolphus and Anjali Jayasinghe are the main singers. Production coordination by Rev. Fr Sachitha Jayalath, stage planning and set up by Sunanda Saagara Jayasinghe a senior lecturer at the Faculty of Architect, Moratuwa University. Production planning and art direction by Ajantha Alahakoon while lighting and sounds by Digital technology.
The massive cast comprise of the devoted parishioners of Kotte while production supervision is done by Rev. Fr. Anthony Fernandopulle Episcopal Vicar for the Western Region of the Archdiocese and Parish Priest of Kotte Church.