'Siriwardane Family' returns to the Wendt
View(s):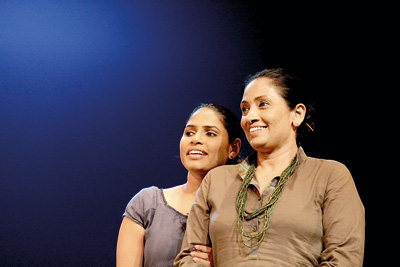 Rajitha Dissanayake's latest play 'Siriwardane Pawla' (Siriwardane Family) returns to the Lionel Wendt Theatre this month after its successful premier at the same venue in January this year. The show, which coincides with World Theatre Day, will be held on Friday, March 27, at 7.00 pm.
'Siriwardane Pawla' revolves around a young man who tries to become a popular star by competing in a TV reality show. The young man, Supun, and his family, consider this stardom to be a ticket to achieving a respectable place in a society where almost all other avenues of social mobility have been blocked.
The cast of 'Siriwardane Pawla' comprises Jayani Senanayake, Dayadeva Edirisinghe, Nadeeshani Peliarachchi, Shyam Fernando, Anuradha Mallawarachchi, Pasan Ranaweera, Devinda Wickramasinghe, Kasun Chathuranga and Charindra Chandrasena.
The set design is by Dharmapriya Dias, music design by Kapila Poogalarachchi, lighting by Ranga Samarakoon, costume design by Nalin Lusena and Samadara Mabulage. Tickets for 'Siriwardane Pawla' are priced at Rs. 1000, Rs. 800, Rs. 600 and Rs.400 (balcony) and will be available at the Lionel Wendt from March 16 onwards.