Rihanna new face of Dior
View(s):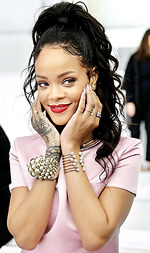 Rihanna is to be the new face for the cosmetic brand Dior. Reports say the singer confirmed the news as she premiered her new animated film Home in New York on 13th Friday. She will appear in the fourth instalment of the Secret Garden campaign for brand which as filmed in Paris recently.
The family of the late Marvin Gaye have dropped another bombshell. They say Pharrell Williams huge global hit 'Happy' bears a resemblance to their late father's 1965 song 'Ain't That Peculiar'.
Meanwhile Robin Thicke and Pharrell are to appeal against verdict over the song 'Blurred Lines' which was deemed similar to Marvin Gaye's 'Got To Give It Up'.
Mariah Carey has returned to Sony Music. The 44 year old diva began her career on the Columbia label under song where she scored her biggest hits. She has come back with Antonio L.A. Reid where under a new multi- album deal a greatest hits album will come out first. While the 44 year Carey is reported to recording new material, her greatest hit collection will feature some of her classic hits updated and perhaps recorded as duets. Mariah Carey left Sony music 15 years ago after her marriage to Sony music Chief Tommy Mottola collapsed. She moved over to two Universal labels, but was not as successful as she was with Sony. She is now with Epic records under Sony music.
Phil Collins was named an honorary Texan by the US state legislature on 11th March after he donated hundreds of Alamo artefacts back to the historic outpost. The 63 year old singer /drummer and former Genesis member did not make a speech at the ceremony.
Sam Smith scored a double this week when his song 'Lay Me Down' topped the UK singles chart and his album 'In The Lonely Hour' simultaneously topped the UK albums chart. Sam's power ballad featuring R&B singer John Legend took a combined sale of 105,000 to debut at the No: 1 spot. The track came out on March 9 as a charity single for the Comic Relief's Red Nose day which was held on March 13. The song first came out in 2013 but only peaked at No: 46. But with success as an artist and his awards pouring in, the 22 year old picked the right partner to duet 'Lay Me Down'. The song is co- written by Smith with James Napier and Elvin Smith. It is also Sam's third No: 1 UK song as the lead artist. For John Legend although 'All Of Me' was a huge hit, it sadly never reached the top of the chart. Here he savours it as a featured artist.
The second highest song track to debut this week is 'GDFR' or Going Down For Real by Flo Rida. The track taken from Flo's EP, 'My House' and features rapper Sage The Gemini. The hip hop/trap track is Flo Rida's ninth UK top 10 song in his own right.