'Closer to Jesus'
View(s):

The production titled 'Closer to Jesus' is an annual event presented by a talented group of young men and women of 'Choro Calibre' who have achieved many successes over the past six years. Set aside 27th March 2015, to be at Fatima Church Maradana at 6.30pm and be part of hymnal, reflections and Benediction as Christians, journey through the period of lent.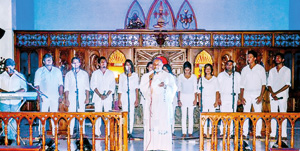 Choro Calibre moving out of the beaten track has always set a trend to take the less travelled road to sing the creator's glory through programmes of choruses set in churches. Thus people have caught a glimpse of spiritual splendour of this group that has drawn many to God as they heighten the surge of spiritual energy.
Formed and led by young Shamal de Silva the group has been in the entertainment industry for the past six years, bringing together singers of several Catholic schools who had completed their school life yet seeking to develop their abilities in choral singing. This award winning choir has been deeply involved in their concerts which has left a lasting impression with their sleek and stylish presentations.
They have also put together charity concerts apart from releasing many DVDs of their songs. The high point of such religious events is their annual Lenten Choral presentation during this season rendering a selection of hymns appropriate for the season
This years programme 'Closer to Jesus' is the 5th consecutive programme in the annual series, which apart from being a memorable choral presentation will also include a fine selection of vedio inputs and karaoke lyrics to re-enforce the themes and enable participative singing that will proceed the Creation story to Christ's passion death and resurrection.
The selection will include 'How Great Thou Art', 'Sithuwillak', 'Blessed Be God', 'Adoramus Te', 'Old Rugged Cross', ' Mary Did You Know', ' Above All', 'Ma Adarai Jesu', 'Nearer My God', 'This is my desire' and 'O happy day'. The benediction of the Blessed Sacrament will bring the presentation to its worthy culmination and will culminate with a healing experience and love of God by Rev. Fr. Angelo.
The programme is free of charge and all are welcome to see, listen and be transformed.