'Ahasin Polowata' screenplay out
View(s):

Award winning script and screenplay writer Dr. Tissa Abeysekara's screenplay 'Ahasin Polowata' (White Flowers for the Dead) written based on Irene Siriwardena's novel was released as a book recently.  The screenplay which was originally written in English by Dr. Abeysekara was translated to Sinhala by cinematographer M. D. Mahindapala and released as a Sarasavi publication.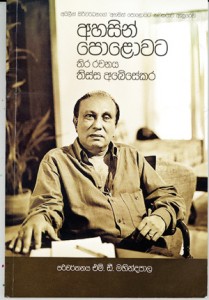 The twelfth film direction of Dr. Lester James Peries 'Ahasin Polowata' which was released in 1976 is regarded as one of the best film directions in Sri Lanka.
Produced by U. W. Sumathipala as his maiden film, 'Ahasin Polowata' won the Best film from the Third World award at the Cairo International Film Festival in 1977 and it was co-produced by W. A. Dharmasiri.
The film starred Tony Ranasinghe as Sarath, an abusive husband who is haunted by his wife's death. Others in the cast included Sriyani Amerasena, Vijeya Kumaratunga and Wasanthi Chathurani in the main cast.
Behind the screen some of the best cinema artistes joined the film and they included Donald Karunaratne as the cinematographer, Sumithra Peries as the editor, Ebert Wijesinghe as the make up artiste, Ralex Ranasinghe art director and Nimal Mendia as the music director. Sarath Fernando handled the music orchestration and Augustus Vinayagaratnam penned lyrics while Rukmani Devi, Milton Mallawarachchi, did the play back singing.