4th Colombo Theatre Festival Summer of theatre
View(s):

With the aim of promoting Sri Lankan theater to international heights and creating a platform for Sri Lankan theater lovers to experience the world theater, 4th Colombo International Theatre Festival will be held from April 4 to 9 at the Colombo British School auditorium.  This year theatrical performances from Korea, Russia, India and Bangladesh will be performed during the festival and veteran theatre personalty K. B. Herath will be felicitated for his decades long contribution to drama and theatre.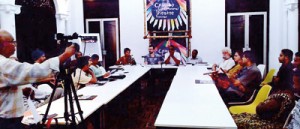 Started in 2012, Colombo Theatre Festival(CTF) is the brainchild of Inter Act Art, a group that had been active in various cultural and art work for the last 22 years. The Inter Act Art founded by veteran playwright M. Safeer built an alternative theatre space by introducing the Black Box Theatre to Sri Lanka.
Having owned theatre house for itself, IAA is conducting a theatre festival annually.
'Colombo Theatre Festival is a voluntary effort of a group of creators who are seeking for new space and alternative dimensions for the betterment of the local theatre' said M. Safeer.  IAA is also a cultural organisation under the ministry of Culture and Arts and a member of the ASSETEJ INTERNATIONAL, Sri Lanka Section (Children's and Young People's Theatre Centre of Germany).
Along with the theater festival, the 'Colombo Theatre Forum' whic organised to allow both local and international directors and artistes, to meet each other and discuss present ideologies, future trends and challenges that concern the emerging and experimental theatre industry in general will be held from 10.00 am to 5.00 pm on April 9 at the Goethe Institute, German Cultural centre.
The festival schedule will be …
March 4 'Soul Solo '-6' solo Performances- Non verbal /Hindi/Marati – 3.30 and 7.00 pm Dir: Prof, Vidyanidhee Vanarase of India/M. Safeer of Sri Lanka
March 5 'Light Puppet Show, March 6 'The Dance and the Railroad' , March 7 'Duratto' Dir: Debaprosad Debnath – Bangladesh 3.30 and 7.00 pm, 8th March 'Like fireworks -Like butterflies'- Korea, March 9- 4 performances from Colombo Dance Platform – Sri Lanka at 3.30 and 7.00 pm .