Mercantile Volleyball launches official website
View(s):

Mercantile Volleyball Association of Sri Lanka (MVA) launched its official website and the theme song at a ceremony held at Olympic House in Colombo where the 2015 version of the Mercantile Volleyball Tournament was inaugurated.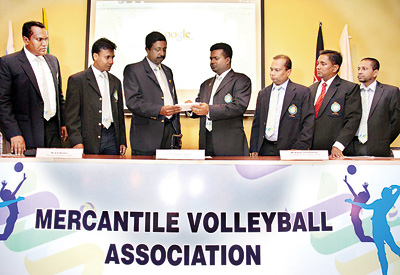 According to MVA President Mangala Perera, who is also the Executive Director of CW Mackie, it was successful in achieving the primary objective of providing employment for approximately 1,200 volleyball players in the mercantile sector and to popularize the national sport of among the mercantile sector.
"The key intention of MVA is to give a professional value and recognition to all the players engaged in the sport within the mercantile sector," Perera said. He further stressed that MVA is continuously committed and strives towards making volleyball a well-recognized, professional sport in this country in the years to come.
The event calendar for the year 2105, details of the annual Mercantile Volleyball Tournament 2015, and the sponsors to the events were also revealed at the ceremony. MVA's member companies, players and enthusiasts could log on to its new website, www.mercantilevolleyballsl.com and get information and updates about its activities.
The apparel factories dominated last year's Mercantile Volleyball Tournament conducted by the MVA at the National Youth Centre courts in Maharagama. The popular tournament was initiated in 2012 with the prime objective of popularizing volleyball within the mercantile sector. During 2012 and 2013, MVA successfully completed two tournaments with the participation of more than 80 teams in the mercantile sector thus making the tournament a distinct event in the national sports calendar.