Stroke Association spreads the message of looking after the brain
By Kumudini Hettiarachchi
View(s):
Slowly but surely, the National Stroke Association of Sri Lanka (NSASL) has been spreading the important message – from the nerve-centre of Colombo to the periphery – of how to look after the brain,
For the first time in the history of the NSASL, its 'Stroke Walk' this year will be held in Kandy on February 21. It is being organised in connection with the National Stroke Day which falls on the last Sunday of February — the 22nd. (See box)
"Many have been our programmes in all parts of the country to take the message not only about stroke-prevention but also on how to deal with stroke," explains NSASL President and Consultant Neurologist Dr. Udaya Ranawaka, adding, however, that this is the first 'Stroke Walk' to be held out of Colombo. Traditionally, it has been held in the capital.
The out-of-Colombo areas have not been neglected though and have had their share of public awareness campaigns and training workshops for healthcare professionals, the Sunday Times learns.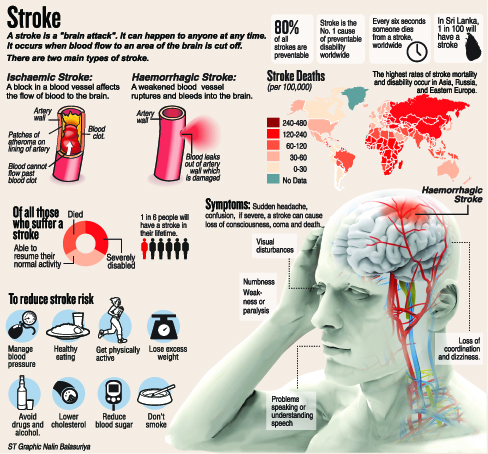 Stressing that with an aging population and a rise in non-communicable diseases, the spectre of stroke is looming, Dr. Ranawaka reiterated that the NSASL has been doing its duty to ensure that stroke-facts are permeating to the periphery, as they should.
The NSASL has also been focusing heavily on improving stroke care cross the country and working closely with the Health Ministry along with the unstinting support of Director-General Dr. Palitha Mahipala, while taking action to improve public awareness and training of healthcare professionals.Committed to establishing new Stroke Units through which stroke patients are handled under a multidisciplinary approach, six more are in the pipeline for Ampara, Anuradhapura, Badulla, Kurunegala, Moneragala and Ratnapura, according to Dr. Ranawaka.
Currently there are seven Stroke Units, while for a population of 21 million there are less than 50 'dedicated' stroke beds, it is learnt. Plans are also underway to work towards setting up units in Jaffna, Kandy, Polonnaruwa and Galle.
Eleven multidisciplinary training workshops for health professionals with the primary target being nursing officers and other healthcare workers, meanwhile, have been held last year at the Anuradhapura, Badulla, Batticaloa, Jaffna, Kalutara, Kurunegala, Matara, Polonnaruwa, Ragama, Ratnapura and Sri Jayewardenepura Hospitals.
According to Dr. Ranawaka the next urgent need is training care-givers as there is no formal system to do so. "We need trained care-givers in the community as well as support groups within the community," he said.
The NSASL is also working towards the improvement of facilities available to give top-notch care to stroke victims including clot-buster treatment in the case of ischaemic strokes, he said. "We hope this will naturally follow when more and more Stroke Units are established."
The hope of NSASL is to set up Stroke Units wherever there is a Consultant Neurologist – at least one unit per district.
Stroke Walk at Kandy this year
The 'Stroke Walk' of the NSASL will kick off at 7 a.m. on Saturday, February 21 from Trinity College Junior School grounds, Kandy, finishing at the Kandy Municipality car park (rooftop).
The walk will be followed by a public awareness seminar as well as free health-checks including the measurement of the body-mass index (BMI), blood pressure and blood sugar. In-depth advice on leading a healthy lifestyle will also be given.
The 'Stroke Walk' is being coordinated in Kandy by Dr. Indunil Wijeweera, Consultant Neurologist of the Kandy Teaching Hospital, and Thusitha Simon, Manager (Administration) of Gateway College, Kandy.
Any donor who wishes to help the NSASL may send his/her contribution to the NSASL's Account No. 003010396203 in the name of the 'National Stroke Association' at the Hatton National Bank's Head Office at 479, T.B. Jayah Mawatha, Colombo 10.
The NSASL may be contacted at No. 6, Wijerama Mawatha, Colombo 7. Tel: 011-2682630 or e-mail: nationalstroke@gmail.com