Commonwealth Law Conference award for BASL Chief
View(s):

President of the Bar Association of Sri Lanka (BASL) Upul Jayasuriya is to receive the 2015 Commonwealth Law Conference Rule of Law award.
"The calibre of the candidates was extremely high and the final decision was difficult to make," the Commonwealth Lawyers Association (CLA) said, announcing Mr Jayasuriya the winner of the prestigious award.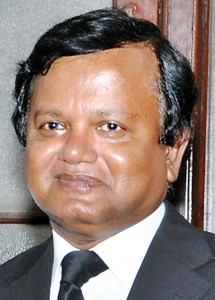 The CLA is a membership association for Legal professionals and its purpose is to be an independent voice for the profession throughout the Commonwealth, by encouraging the development of education and training, to ensure that the Legal profession effectively serves the people of the Commonwealth.
In 2013, the CLA partnered with LexisNexis to establish a biennial Award recognising an individual, institution or firm who made an outstanding contribution to the Rule of Law, which impacted their own country and the broader Commonwealth. The inaugural winner of the Commonwealth Rule of Law Award was Ms Robyn Sully, a Canadian lawyer who has dedicated her life's work to the cause of human rights.
The Award includes a donation from LexisNexis of US$ 5,000, and will be presented at an exclusive VIP dinner to be held during the Commonwealth Law Conference on April 13, at 7:30 pm. at the City Chambers in Glasgow, Scotland, which is one of the city's most important buildings.
Prof Sir Jeffrey Jowell QC, Director of the Bingham Center for the Rule of Law, will be the keynote speaker at the event. Delegates at the Conference will have the opportunity to hear of Mr Jayasuriya's contributions and dedication to the Rule of Law.
This year, a distinguished panel of judges came together from around the Commonwealth, including Baroness Helena Kennedy, Lord Igor Judge, Chief Justice Robert French, Justice Desiree Bernard and Justice Elsie Thompson, to select the winner.
BASL convocation on March 28

The BASL will hold its convocation on March 28 to induct newly elected President Geoffrey Alagaratnam, PC and other office bearers.
Attorney at Law Ajith Pathirana was elected as the Secretary.