Chilly weather at night for two weeks more: Former Met. Chief
View(s):

Strong chilly winds blowing from Russia and moisture-laden winds from Northern India has resulted in a cold snap, a weather expert said.

Explaining the present phenomenon, in which warm days, rainy evenings and chilly nights are prevailing, former Meteorology Chief K.R.Abeysinghe said that the present weather will prevail for the next two weeks.

"Usually the weather during the N-E monsoon hinges on two high pressure wind patterns – the first blowing from Northern India and the other from the Russian region. When high pressure winds from one region intensify, the other weakens, each being active for a period of two weeks," he said.

"The North, East and North Central areas of the island will experience heavy showers and strong winds during the day, while the West, South and Central areas will receive evening thundershowers," he said.

Clear cloudless skies during the day can cause direct sun rays to strike the ground and radiate heat and cause radiation cooling (temperature drop at night). This also can trigger thunderstorms.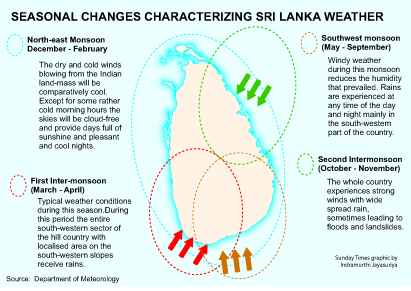 "The Sun is moving towards the equator and on March 20 will pass directly over the equator. Therefore, the days can be really warm, the former meteorology head said. The winds originating from the Bay of Bengal could bring moisture. This results in humidity which causes discomfort and excessive sweating.
The Meteorology Department requested the public to take precautions against lightning and warned of temporary localised strong winds during thundershowers.
The Department said showers could be expected in the Eastern, Uva, Central, Northern and North Central, Western, North Western and Sabaragamuwa provinces and in the Galle and Matara Districts.
Many parts of the country are also experiencing low temperatures ranging from 20-26 degrees Celcius. Anuradhapura recorded 26 degrees, Badulla 20 degrees, Ratnapura 23 degrees, Vavuniya 25 degrees, Galle 25 degrees, Batticaloa 26 degrees and Jaffna 29 degrees.
Katunayake, close to Colombo, experienced the highest temperature of 33.8 degrees. Misty conditions were recorded in some areas of Ratnapura.