Elections angst: The hard, sharp edge of child's play?
View(s):

The other day, on a whim, I said Oh, all right! to be a 'professor's assistant' at a children's party. A rather creative friend of mine, ambitious Mother of Three and aspiring to be Mistress of the Universe, had failed to refuse to entertain the madcap notion that children don't like to play. Much. Nicely. So we had – instead of the traditional but ever-so-boring party games – a rich petri-dish mix of PG13-violent 'mad scientist'-type experiments. I kid you not.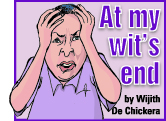 In one of these, a detergent-drenched skewer was used to puncture a moistened balloon at both ends without bursting it. In another, sugar-coated mints dropped into diet coke set off a soda-fountain spurting with effervescent gaiety.
You're getting the picture – aren't you, my dears?
This drop of milk and that dollop of food colouring stirred in with fragrant hand-wash produced a whirlpool of "swirly milk". That pinch of bicarbonate of soda, this drop of colouring, a smidgen of hydrogen peroxide, and those scrapings of soap churned up "elephant toothpaste". A clutch of obscene balloons over there on a bottle – like a perverse vintner's prophylactic – were lifted and full blown by dunking vinegar (an acid) with baking soda (a base). (Or so the grown-up little girls lectured their spellbound audience.)
All the experiments were initially demonstrated by Mum la Super Dame and her glamorous Demi-Professor (my spouse of seventeen summers), and were conducted with six-year-old kids as the all-too-willing juvenile lab rats. The party-mother and her helper were positively puerile in their joy at getting to mix potentially explosive chemicals and make spectacular effects ensue – in the name of entertainment. But the precious and precocious little ones for whose amusement the experiments were supposed to be put on were all-too-grown-up in their enthusiasm to make the most of their guardian adults' momentary madness.
What follows below – as a mere sample of the sterner conversations that took place among the kiddies – is reflective and representative of the meanness and mayhem that lurks beneath the benign, brilliantine'd features of even the most angelic cherubs. (I mean the children, not the prof and her mad-scientist helper.) It was a microcosm of so-called civilised society; human nature pink in tooth-fairy-like fantasy and party-bangled claw.
"I want more acid, aunty."
"Don't squirt vinegar on me!"
"We don't have enough colouring stuff…"
"If you touch our balloons we'll spray coke on you, ok?"
"Uncle, they won't let me puncture the balloon with the toothpick!"
This wasn't child's play… it was pre-kindergarten (present-day) post-parliamentary fun. With a capital F, being muttered softly under many a watching father's breaths. And about as rambunctious as your elected representative boyishly bunching a miscreant monk in the well of the House. As rumbustious as a wayward mayor testing his toy pistol's safety features in the sanctity of an abandoned airport. As rumgumtious as a useful minister's son uselessly introducing himself to an attractive tourist in a darkened, rum-soaked nightclub. (All real words, dears, do look them up? All real local situs, too, but don't look those up! There's a dear…)
What was that thing the poet said, about the child being the father of the man? Well, this was it! With bells and party-bangles and lab coats on to boot…
As yours truly fondly watched the little tykes play at being terrorists in training, I was struck by the resemblance children have to corrupt little politicos being made or coming undone. On the one hand, they both look and sound like they were born six years ago. But sooner or later, out pops the cloven hoof! With a vengeance! In my feverish frenzy, my mind focused on ensuring that the wrong mix of chemicals didn't blow up this latter-day Guy Fawkes night (as near as dammit to 5th November, this party) to Kingdom Come. And as I grew intoxicated by the heady mix of carbon monoxide and coke-on-a-mint-stick, my imagination wandered down to the halcyon halls of power literally a stone's throw away from the party house across the lake… and to a temple-tree'd terrace a little farther away in the city… and to the corridors of the real power at a palace in the old quarter of town…
"I want to stir the pot of gold a little longer, malli."
"Don't shoot constitutional amendments at me, you cheap just is!"
"We don't have enough suckers being born every minute…"
"If you poke your nose in our supreme coat [sic] one more time, we'll spray you with sick [sic] until you're sick [quote], ok?"
"Maama, they won't let me play with all the toys that the big boys are playing with, no!"
"I want to play again – and again – and again…"
"This is child's play, putha, grab that crown and the sceptre, will you, there's a good boy!"
Naughty kids go home, and their party-hosting/party-attending parents clean up. Nasty politicos never go away, and their parties are hardly in a fit state to clean up after them… That's the difference between an adult-themed party for children and childish adults squabbling over the only party-bangle worth wearing two – or more – or as many times as possible.