Human tragedies behind increasing road accidents
By Kasun Warakapitiya
View(s):
Sansika Himal Abeywikrama, an 18-year-old accident victim at the Colombo National hospital was in tears on Thursday as he signed a consent form to amputate his right leg.
He was shouting in pain as nurses prepared him for the surgery scheduled for later in the day. He was not the only victim in this, one of the most recent accidents – three others sustained serious injuries.
Sansika's uncles T.M.R. Tennakoon and Chandana Tennakoon said the accident occurred in Gonagama, Kurunegala last Sunday around 9.30 p.m. when a three-wheeler driven by the boy's mother collided with a tractor fitted with a ploughing machine.
"My nephew, his mother and two sisters were returning home after visiting a friend when this occurred. The farmer who drove the tractor with a trailer connected to a ploughing machine had no permission to drive it on a road," Mr. Tennakoon said.
He said Sansika's 20-year old sister and mother were admitted to the accident ward in Kurunegala Hospital while the younger sibling of 13-years was admitted to the Colombo National Hospital Intensive Care Unit.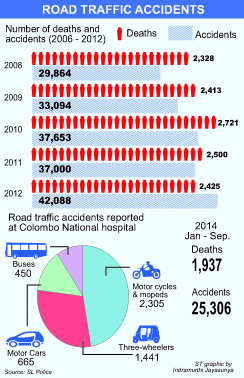 The older girl was treated for a fractured leg and the mother for a fractured head, broken fingers and bruised leg.
The uncle charged that the tractor was being driven very fast and it had only one light operating, adding that Sansika's mother hadn't seen the tractor. The three-wheeler had smashed into the ploughing machine and toppled on the machine along with the passengers.
He claimed that the police had not taken any action against the farmer and in spite of a complaint being made to the Inspector General of police.
In another incident 18 year-old Kumudika Hansani Jayananda was run over by a bus plying from Aluthgama to Kalutara when she stepped off the pavement to avoid a cyclist.
Hansini's mother U.K.D Lilla Prapaathirathna said that her daughter had to undergo cosmetic surgery to her left leg to restore the skin that had peeled off. Commenting on their plight she said her husband had died of cancer a few years back and she pinned all her hopes on Hansini who would be sitting for her A/Level exam next year.
"Bus drivers should be more careful and cyclists who obstruct the pavement must know that their wrong doing can inflict pain to others," she lamented.
These were just some of the recent human tragedies behind the increasing number of road accidents that claim at least six lives daily.
Colombo National Hospital Accident Services Director Dr. Kapila Weerasinghe told the Sunday Times that the hospital of the 300 patients who visited the OPD daily, one third of them were victims of accidents.
He said 70 per cent of the accidents involved three wheelers or motorcycles, adding that back, facial and dental injuries, bone fractures, soft tissue and head injuries were the most common.
"Six surgeons work twenty four seven to treat these patients," he said.
Pointing out that careless and drunk driving, the lack of safety precautions and lack of road worthiness of vehicles, were the main reasons for accidents, Dr. Weerasinghe said although the traffic law was sufficient to curb accidents, the lack of stricter implementation and unplanned roads were resulting in increased number of incidents.
Meanwhile due to the increasing number of accidents the Police Chief is to meet authorities to discuss amending the law to reduce the number of offences being referred to courts.
According to the traffic police, 1,814 fatal accidents resulting in 1,937 deaths were reported from January 1 to October 28 this year.
Of these, 669 deaths were related to motorbike accidents.
Police sources also said they recorded more than 193 accidents a month and of them 180 were fatal.