Convicted drug peddlers to appeal tomorrow
By Manopriya Gunasekara
View(s):
Lawyers for the eight persons including five Indian drug traffickers sentenced to death by the Colombo High Courts are due to file appeals tomorrow in the Court of Appeal.
Colombo High Court Judge Preethi Padman Surasena in a landmark judgment – where GPS technology was used to prove the charges for the first time – convicted the eight suspects for trafficking in nearly a kilogram of heroin.
The court held that the charges were proved beyond doubt against the eight suspects – Mutturasa Kamal Christian, Keerthirasa Keelson, and Gana Prakashan Dushyanthanan (all from the north of Sri Lanka) and Mariya Loyella, Rayappan Wilson, Kulandasamy Prasad, Sunyprimo Selvanayagam and Pilendran Augustan (all from Ramehswaram in India).The detection was made by the Sri Lanka Navy on November 28, 2011 close to Kachchativu where 955.4 grams of heroin was smuggled and handed over to the Sri Lankans who posed as fishermen.
Lt. Commander Charitha Gunawardena and Lt. Nalin Madhawa Herath in charge of vessel P480 along with their crew had taken the suspects into custody.
Court was told that some 500 Indian boats were involved in poaching around this time and this particular vessel – an old trawler – was seen making its way towards Sri Lanka. The vessel was put under surveillance and it was observed that a dinghy heading towards the trawler within Sri Lankan waters received what was initially seen as one parcel. The observations were made through a camera fitted on the naval vessel. Later it was observed to be not one but four parcels.
As the naval craft approached the boat one of the parcels was thrown into the sea, but a sailor had dived and retrieved the parcel while all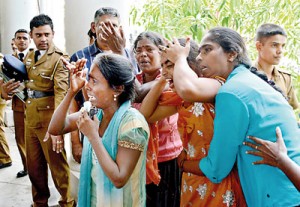 suspects were apprehended, court was told.
The High Court Judge held that considering the evidence available he was passing sentence on the suspects.
Senior State Counsel Madhawa Tennakoon pleaded that the maximum sentence be passed on the suspects as they were carrying a large quantity of heroin which could be made into small packets and distributed throughout the country thereby having an impact on young persons' lives.
He noted that this would further destroy the lives of the youth who have already been affected from a 30 –year-old war.
He said there was already an issue of Indian fishermen poaching in Sri Lankan waters and this type of incident could lead to international drug traffickers using this method. He said that this type of incident could lead to conflicts between Indian and Sri Lankan fishermen as well.
Attorney-at-law N. Shri Kantha appearing for the first suspect said an appeal against this judgment is forthcoming.
Attorney-at-law Sarath Ekanayaka appearing for the second accused pleaded for a lenient sentence as the suspect was only twenty eight years old and had two children.
Anil Silva, PC., appearing for the Indian suspects observed that the relations between Sri Lanka and India have been strained over the years and there have been disputes over Kachchativu island. He said that several Indian fishermen who have been arrested have been released as well in the past to improve relations. 'Under these circumstances a volcano should not be reactivated, he added.
He pleaded that a lenient sentence be passed on the suspects as in India too the death sentence is not passed often.
The five Indian suspects claimed that they were involved in fishing.
Too early to comment on death
sentence for 5 Indians: Govt.
Sri Lanka yesterday said it was too early to comment on the conviction of five Indians charged for drug trafficking.
"It is too early to comment on the issue as the legal process is continuing," an External Affairs Ministry spokesman said.
His reaction came as an appeal was set to be filed against the conviction.
A spokesman for the Indian High Commission in Colombo said, as it is a judicial verdict, they are processing the legal remedies and the next option available for them is to appeal against the judgment.
She said that the Indian External Affairs Ministry spokesman has made clear Indian concerns about the death sentence passed.
Indian External Affairs Minister Syed Akbaruddin said on Friday that, "Concern within our government on this judgment has been conveyed to Sri Lanka authorities, both in New Delhi at the highest level that the Sri Lanka's authorities are present here, as well as through our High Commission to senior levels within the Sri Lanka Government, including the Sri Lanka Foreign Minister, and the Sri Lanka Defence Secretary, because these people were apprehended by the Defence forces, and other important officials within the Sri Lanka Government."He said the Indian government's stand on this issue is that there has been a 'miscarriage of justice'.