Clarity needed over definition of senior citizen, BT poll reveals
View(s):

This question was posed in a Business Times (BT) poll in the context of some confusion as to the age of a senior citizen, and most respondents (40.5 per cent) said it was 60 years.

The question asked was "who is a senior citizen. Is it one aged (a) 60 years, (b) 55 years, (c) 59+, or (d) none of the above".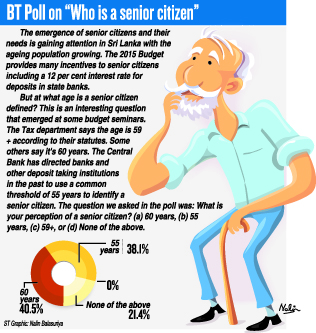 Little over 38 per cent said it was 55 years while 21. 4 per cent said it was D (none of the above). Not a single respondent from the nearly 350 responses that were received said it was 59 +, though that's an age followed by one state agency.According to the Inland Revenue Department, the age of a senior citizen is defined as reaching 59 years in the month of April.
Commercial banks recognize senior citizens as 55 years and over as per Central Bank rules, while the age of retirement is also 55 years.
The BT interest in seeking the views of the public comes in the wake of an increase in interest rates from state banks for senior citizens as announced in the budget. The age issue also drew some confusion at a budget seminar in Colombo, implying that either many people are unclear about the definition of a senior citizen or government institutions vary in their definition like the difference between the banks and the tax authorities.
In a recent newspaper report, Health Minister Maithripala Sirisena was quoted as saying that he has proposed to the government to increase the retirement age in the public service to 65, with the option of retiring at 60.