Hike in heroin detections with greater vigilance
By Damith Wickremasekara
View(s):
A man was preparing for his wedding in two days time when policemen following up on the detection of three mg of heroin, arrested him in the Borella area.
Twenty-six-year old Dinusha Madhuranga who police said confessed to having one more kilogram of heroin inside his music setup at home in Borella, was accompanied back to his residence by two policemen in civvies, after being warned not to reveal their identities to his family members.
At his residence, the policemen in civvies were served wedding cake and tea by family members unaware that the two men were from the police.
But as they left, Dinusha's sister realising that her brother's reactions were a bit suspicious, dispatched 7 kg of heroin hidden inside three concrete blocks, to a house in Ja-Ela.
However, hours later, Dinusha's sister and his wife-to-be were arrested and the rest of the drugs were recovered. The drugs concealed in foils were neatly packed and wrapped in polythene and placed inside a wire mesh, before being covered with concrete.
This was how the latest detection of heroin was made in Colombo, just two days after 9 kg of heroin was detected in Nedimala, Dehiwala, by the Special Task Force (STF) on a tip-off.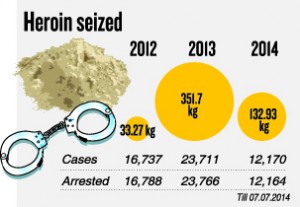 "We got a tip-off that a van with a particular number was transporting drugs on Monday night. A roadblock put in place apprehended the vehicle. On checking the vehicle, drugs were found hidden in the rear," a senior police officer involved in the detection said.
He said that six including the main suspect, Chinthaka Kumara Dias from Mirihana, were arrested.
Police claim they believe the main suspect in charge of distributing the drugs once smuggled into the country by a drug trafficker, is overseas. "He has five warrants against him in connection with the possession of heroin," the officer added.
"We are now looking to arrest people responsible for the main distribution. The
information elicited from those possessing small quantities has been useful to get at the main distributors," said an officer involved in the investigations.
This year alone, until last week, 133 kg of heroin were detected, with the arrest of 12,164 persons, according to the Police Narcotics Bureau.
Of this year's detections, 96 kg were detected by the police while 37 kg were detected by the Customs.
Last year, 351 kg of heroin was detected, with 316 kg being detected by the police, while 23,766 were arrested.
The figures are comparatively higher than in 2012, when only 33 kg of heroin were detected, while 16,788 cases were filed.
Police said that they were closely monitoring the movements of those associated with 'Welesudha', who is believed to be involved in drug
trafficking.