Kvitova's Super 'brand'
Wimbledon 2014
View(s):
For a championship to be good and remembered the exhibition of Tennis must be appealing and well contested. This happens only when winner and the challenger come out with their best in every match. To win Wimbledon, a player has to win seven matches. As he rounds progress players begin to feel the strain, stress and increased anxiety. Some players progressively get better while others break down. To come out at the top players have to enter the realm of 'super-Tennis' and this is exactly what Kvitova did.
Kvitova 'hits the zone'
The name that will be remembered most from this year's Wimbledon will be Petra Kvitova. Being the winner of 2011 women's title she is not an unknown name. On that day of the finals there was no player she could not have beaten. She came out with some of the biggest serves seen in recent years. It had the power and placement with full venom, tactically. Very big number of rallies finished with her 'returns of serve'. She sustained court coverage speed right through the tournament, from beating Venus Williams in the second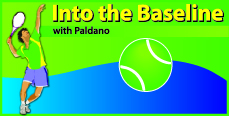 round, to winning the finals.
The up and coming Canadian, Eugenie Bouchard in the finals hung up her challenge after her 5th game. Bouchard probably has never faced this 'fire power' in her life. Kvitova's Tennis was perfect, in fact, too perfect and the finals lasted only 55 minutes. Some of the biggest names of modern Tennis have come from Kvitova's country, the Czech Republic.
Currently they are the Federation-Cup champions. Few years ago the legend, Martina Navratilova predicted that 'Kvitova will be a multiple Grand Slam winner.' Serena Williams came up with a similar game last year but nothing close to Kvitova's Tennis in the semi-finals and the finals of Wimbledon 2014. Kvitova also poses one of the biggest questions – 'What happened since winning Wimbledon in 2011? She has been a top ten player for a while but only with far and in between titles. Smiling Kvitova told the press after winning the title, that even she could not believe some of the shots she played. It happens when a player 'hits the zone'.
Where the boys are?
It is an old song some would still remember. When this Wimbledon Men's final's was played between Novak Djokovic and Roger Federer, one has to ask 'where the boys are?' A fading Federer and surviving Djokovic with ever changing 'team-outfits' provided a memorable epic because of their names; not with exceptional Tennis. The issue of good Tennis for Wimbledon was not theirs as finalists but that of challengers. First Canadian in Semi-finals Raonic was not good enough to upset Federer's progress and first Bulgarian in the Wimbledon semi-finals Dimitrov was worn out on his sixth match of the tournament against Djokovic. There is a long list of names of new comers in men's who are doing a one-off performance. Not much came out of Swiss Wawrinka, Frenchmen Tsonga and Monfils, Japan's Nishikori, Poland's Janawicz and even the new comer Australian Kyrgious went out with one 'big-kill' beating Nadal. The replacement in men's singles is seen only in the second tier. Maybe 'Grass' is not the surface for these new comers.
Murray and Halep
In the men's singles quarter-finals Murray did not 'play'……. when he lost to Dimitrov. It left a list of bad options to speculate and the media went in all directions to bring him down. What ever happened should not have happened. Some cited personal issues. The stadium was full of Brits and the so was the Royal box. Murray just could not put away his issues and perform. He is the only man with a female coach in the top ten; Amelie Mauresmo. She was a former French player. It was an arrangement for Wimbledon and very unlikely to continue.
The match which became a disappointment was the women's semi-finals between Eugenie Bouchard and Romanian Simona Halep. Much was expected from these after their stellar performances in the French-Open. Grass tires the legs. Stopping, turning and balancing are three of the vital areas grass affects. Halep's physical ability plays a critical role in her game. Grass challenged her and she strained her left thigh muscles in the early rounds and came for the match against Bouchard with a bandage. In the 6th game of the first landed and turned her direction in full speed. Her foot did not slide but got stuck on grass and twisted her ankle. Tournament 'Physio' gave five layers of support but that did not do any good to the nature of the damage. In the latter half tie-break in the first set she was unable raise the game to the levels needed to win. Bouchard won in two sets.
Thrilling Doubles
Bryan brothers were defeated in a thriller by Pospisil and Sock. It was a noted performance from the Canadian American combination. They have never played together and beat the Bryan brothers in a thriller. Doubles can be this good to watch between two good combinations. Nemad Zimonjic combined with unexpected first round loser of women's singles Australian Samantha Stosur and won the mixed doubles title in a very close match in the finals. Zimonjic is well known for doubles. Stosur won Wimbledon mixed title few years back with Bryan. Italians Errani and Vinci are everything in Tennis. They are in the top 20 of the singles and number one in doubles. They won the doubles very easily. They have won every major title. These two Italians will go in history as two of the best from Italy.
Canadians steal the show
Petra Kvitova showed how dynamic, precise and power packed Tennis can be. Over all Wimbledon 2014 was a Canadian show. A Canadian Vasek Popspisil won men's doubles title, Milos Raonic another Canadian reached the semi-finals men's singles and the third Eugenie Bouchard reached the finals of Women's singles. All these make Kvitova and the Canadians contributed most for the super Tennis of Wimbledon 2014.
George Paldano, former international player; Accredited Coach of Germany, ITF and USPTR; National, Davis Cup and Federation Cup Coach–gptennis.ceylon@gmail.com.