US spying on Sri Lanka also
View(s):

Sri Lanka is among many countries where the United States National Security Agency has been spying on.
The map here and the following account appear in the US website http://www.vox.com:
"It's not exactly a secret that the National Security Agency has wide authority for spying on foreign governments. But just how wide is driven home by a 2010 government document, just published by the Washington Post, that lists every country where the NSA has authority to spy on that country's government. A map of those countries is shown at right.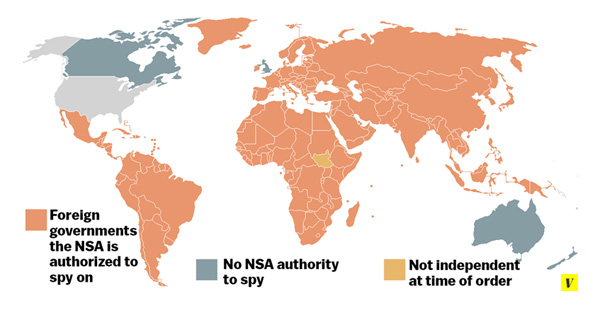 "Two things you will notice immediately from this map. The first is that the NSA has authority to spy on almost every single country on Earth – even the Vatican. Presumably, the NSA pre-emptively asked for (and got) authority in most of these countries before it had a specific reason. …….
"The second thing you'll notice is the only four nations not included on the list: the United Kingdom, Canada, Australia, and New Zealand. (There is also a fifth, South Sudan, although it was not yet independent as of 2010 and they're now on the list.) Those four countries, all fellow Anglophone nations of significant English descent and former members of the British Empire, are members with the United States in an agreement known as 5-Eyes.
"The 5-Eyes nations initially formed this five-country pact in World War II as a way to coordinate spying on enemy radio transmissions. They've since remained partners; the point of 5-Eyes is that five countries agree to share intelligence and never to spy on one another. The idea behind it is that the countries are so culturally and politically close that they grant one another a unique degree of trust and access when it comes to intelligence.
"GERMANY AND FRANCE HAVE ASKED TO JOIN NO-SPYING AGREEMENTS, BUT IT'LL NEVER HAPPEN
"Not long after it was revealed that the US had spied on German Chancellor Angela Merkel, both Germany and France expressed interest in joining a 5-Eyes-style no-spying agreement with the US, but there is little chance of this happening given the history of post-war political tensions and trade disputes with these countries.
"But the vast, vast majority of the world is not part of 5-Eyes, and that means that they're subject to NSA spying on their government, whether they like it or not. The NSA's authority, according to the government document, comes from the Foreign Intelligence Surveillance Court, which approved the list of countries. The memo also approves spying on the world's leading inter-governmental bodies: the United Nations, the World Bank, the International Monetary Fund, the Arab League, the European Union, and so on.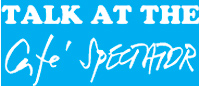 "Maybe most interesting of all, though, is the list of six political organisations at the bottom of the memo, which the NSA was also granted authority to spy on. Here's the list, with some brief annotations: "1. Amal, a Lebanese Shi'a political party that has historically been a rival of the Lebanese Shi'a political party and terrorist group Hezbollah.
"2. The Bharatiya Janata Party (BJP), India's predominant right-wing Hindu nationalist political party, whose leader Narendra Modi was once blocked from visiting the US because of his history of inciting anti-Muslim violence. Earlier this year, Modi became the Prime Minister of India.
"3. The Bolivarian Continental Movement, a South American organisation that promotes "the union of the peoples of the Americas" against the "imperialist aggression" of the United States, "defending the Venezuelan revolution from the imperialist threats", and "to reinforce the struggle against the Yankee military bases in Colombia." It is based in Venezuela and associated with the Colombian narco-terrorist group the FARC.
"4. The Egyptian Muslim Brotherhood, which was banned in Egypt up until the 2011 Egyptian revolution, entered politics that year, got a member elected president in 2012, had its president deposed in a military coup in 2013, and is now persecuted under the military government. Ironically, since 2011 the United States has been frequently accused in Egypt of secretly backing the Muslim Brotherhood.
"5. The National Salvation Front. The memo does not specify which National Salvation Front it is referring to (there have been several in Europe and the Middle East) but it likely refers to the Syrian opposition party, the only group by that name that was active in 2010, when the memo was issued. (Some articles have claimed this refers to the Egyptian party by this name, but it was not formed until 2012.) Syria's National Salvation Front is an opposition party based abroad, primarily in Belgium.
"6. Pakistan People's Party, a popular Pakistani political party that has center-left politics and historically positive ties with the United States."
---
PB's butler claims backfire
It was rough sailing for Treasury Secretary P.B. Jayasundera when ministers, MPs and chief ministers of the UPFA met at a seaside resort in Beruwala last Monday.
He gave them a briefing on the state of the economy asserting that it was doing well. Those present including President Mahinda Rajapaksa listened intently.
Once the presentation was over, Kurunegala District parliamentarian Shantha Bandara rose from his chair. He said if as claimed the economy was doing so well, how come those in the Government benches could not counter allegations made in Parliament by the opposition.
Just then, how those gathered viewed the Treasury Secretary became public. Most including ministers began tapping on their tables.
Jayasundera, embarrassed by the remarks, offered an explanation. He, described himself like the Butler at the White House. Although such a person was expected to carry out a multitude of tasks, not all were based on his decisions.
Joining in was Badulla District parliamentarian Uditha Lokubandara. He said anyone engages in business on the premise that there would be profits. Mr. Jayasundera had through statistics shown that Sri Lanka's economy is very strong. If so, he wanted to know, whether the Government and the Sri Lanka Freedom Party would benefit from such an economic success.
The Treasury Secretary looked ruffled. Then came another verbal blow from Loku Bandara. "You referred to the White House Butler who kept things in place in the White House. The Butler would remain and the White House would be in good order. But it would be the President who would have to go," he remarked.
It was received with applause. Among those who clapped? President Mahinda Rajapaksa.
---
President also joins in baila session
The saying goes that all work and no play makes Jack a dull boy. Perhaps UPFA ministers, parliamentarians and chief ministers who met at a southern tourist resort believed in this dictum. When they finished business at the annual event, it was time for a baila session.
Starting it off was North Central Province Chief Minister Dayasiri Jayasekera. Known for his musical talent, his songs prompted ministers and MPs to take the floor. And who should join in? Well, none other than President Mahinda Rajapaksa.  It was a gala ending on Monday night.  The next morning, the event ended with breakfast. Most opted for thambili water and fruit juice then.
---
Lanka to upgrade Kampala training centre
The Government of Sri Lanka is to help upgrade Masulita Vocational Training Centre in Kampala, Uganda.
A proposal to this effect has been approved by the Cabinet of ministers. It follows a recommendation by Dullas Allahapperuma, Minister of Youth Affairs and Skills Development.
Instructions have gone out to the Sri Lanka Embassy in Kampala to arrange for suitable land in consultation with the Ugandan Government for this purpose.
---
Big investors bringing in foreign workers
Investment Promotion Minister Lakshman Yapa Abeywardena was waxing eloquent at a news conference on the virtues of investment promotion and the great benefits for Sri Lanka. A local journalist persisted in his question — why are investors coming with more than US$ 250 million allowed to bring in their own labour?
At first, Mr. Abeywardena acted like an articulate lawyer in a court house. He pulled different Acts and other documents to say that was a concession for those making high-end investments.
Not to be stumped, the journalist kept pressing. Well, even then you could get them to use local labour. More so, when there is so much unemployment.
Abeywardena appeared to relent. He was overheard telling an official in a hush hush voice "there is some merit in what he says. We will have to go into this."
So, even in the sphere of foreign investment there is a need to take a hard look at what is right and wrong.