Ethno-religious violence: Recovering from setbacks to FDI and tourism
View(s):

Peaceful conditions and law and order are indisputable preconditions for sustained economic development. International experience and our own economic history demonstrate this. A recurring theme of this column has been the importance of peace, law and order and social harmony for economic growth and development. The recent insecurity in the country has already eroded these very prerequisites for growth.

The single most serious constraint to higher economic growth since independence has been ethnic violence, terrorism and the long drawn out civil war. At the end of the war in 2009 there was every prospect of a higher trajectory of growth. This has been achieved to some extent, but the re-emergence of communal conflict is a dark cloud over the economy.
Both foreign direct investment (FDI) and tourism have been adversely affected by recent events. It is a setback not only to this year's expected higher economic growth but to economic development of years to come. Restoring security is therefore imperative for economic growth.
Peace initiatives
The restorative and peace initiatives of the Government, political parties, religious leaders and community organisations are commendable. Hopefully these would prevent further disturbances and restore confidence that ethno-religious disturbances are of the past. However, it takes time to restore confidence in the country and abroad. It will take time to undo the damage done to tourism, FDI and the economy.
Preventive measures are needed to control ethno-religious vituperations leading to violence from whatever quarters they may arise. Communal explosions must be immediately quashed. Stern measures that Malaysia and Singapore have taken to prevent any ethnic violence are a good example to follow to ensure peace in a multiethnic society where undercurrents of such animosity are inherent.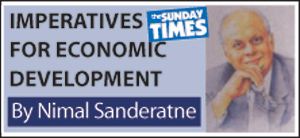 Two vital setbacks
The recurrence of communal tensions has affected FDI and tourism — two important levers for higher economic growth. It is too early to predict the course of events in the next few months, but tensions have already affected these two vital facets of the economy. The damage done by these is not easily restored. Strong early affirmative actions that guarantee peaceful conditions would be needed to restore confidence among travellers and foreign investors.
With the end of the war, there was a pickup of tourism. The first half of this year saw the highest growth in tourism. Since the violence of mid-June, adverse travel advisories have resulted in cancellations of hotel reservations, especially from Middle Eastern countries. New bookings have dried up from Western countries as well.
Widespread international publicity to the Beruwela-Aluthgama violence, as well as recent destruction of mosques, churches and Hindu kovils and business houses of minority interests, would dissuade travellers from many parts of the world. There have been similar setbacks to tourism in Egypt, Indonesia and Thailand arising from ethno-religious tensions as well as political disturbances that take time to turn round.
Sri Lanka's tourist industry would take time to recover from this setback even after normalcy is restored. The expected tourist arrivals of 1.4 million are unlikely to be realised this year. Consequently tourist earnings that are significant to the balance of payments would be less than expected. Furthermore, investments in hotels are likely to be held back. There will also be lesser prospects of increased flights to Sri Lanka that are important for tourism.
A convincing return to peaceful conditions would be needed to revive tourism even after peace and law and order are restored. Even then, the long term prospect of the industry is at risk as a recurrence of such communal tensions would be deemed to be possible. Strong measures to contain ethno-religious disturbances from whatever quarter it may arise are needed to restore confidence among travellers.
Foreign direct investment
The other casualty of the current situation is FDI. Much higher FDI amounts of the right types are needed to propel the economy to higher sustained economic growth and further structural transformation of the economy. The resurgence of ethno-religious violence and inadequate protection of property and weak efforts at enforcing law and order are bad signals to foreign investors.
The prospect of a threefold increase in FDI from that received last year that was considered necessary by the Government has once again receded. The prospect of receiving FDI in export-oriented manufactures and hi-tech industry is less likely now. Even investments in the hospitality trade are at risk with the setback to tourism.
The previous severe setback to FDI occurred in 1983 just when foreign investors were considering Sri Lanka a good location to establish hi-tech industry. Once again the situation is not hospitable for FDI for hi-tech industry. Just as we missed a golden opportunity to propel the manufacturing sector to achieve the status of a Newly Industrialised Country (NIC) after 1983, the prospect of attracting FDI is receding again.
Missing the opportunity to attract the right type of FDI once again is a serious setback to sustained high economic growth. The benefit of FDI, unlike capital inflows and foreign borrowing, is by its nature long term and much better for supporting long term development as there is a maturity match between financing and the stream of outputs. In addition to FDI's contribution to reducing the resource gap, FDI transfers technology, management and organisational skills and enables access to developed country markets.
Conclusion
Five years after the end of the war when the economy was deriving the benefits of peace, the country is again enmeshed in communal tensions. Are we on the verge of an economic setback as after July 1983? Do we not learn from our own experience, as well as that of the world at large? Singapore and Malaysia, two multi-ethnic countries were able to progress because they contained ethnic conflicts and gave precedence to good economic management. Strong actions are needed to ensure law and order to redress the setback to the economy.