Diplomatic blunder after blunder, now crisis with Pakistan also
By Our Political Editor
South Africa's Ramaphosa coming tomorrow on peace mission, but UPFA allies oppose any role for outsiders
View(s):
"I will win" at an impending presidential election, declared a defiant President Mahinda Rajapaksa to UPFA politicians at a southern resort but strongly castigated his likely main opponent, United National Party (UNP) leader Ranil Wickremesinghe at Thursday's ministerial meeting.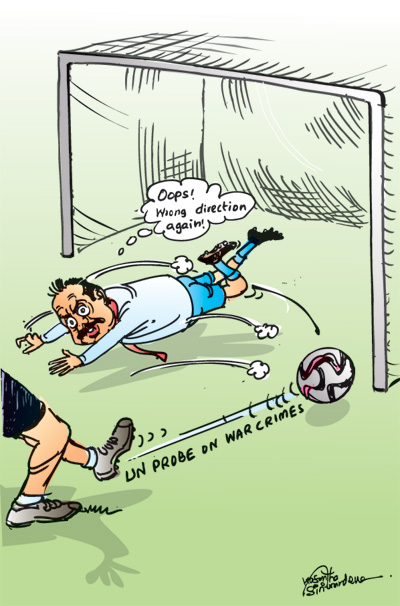 "NGOs have agreed during a meeting at a temple in Nugegoda to provide him (Mr. Wickremesinghe) with any amount of money for his campaign. It has come from the United States," he declared. The President accused US Ambassador Michele Sison of being responsible for channelling money and told External Affairs Minister G.L. Peiris to summon her and lodge a protest "for interfering in the internal affairs of the country." He claimed that some two billion rupees had been set apart for the purpose. A US Embassy source denied the accusations and said no such funds were given to any political party.
"Mang dannawa mehema katha karaama paththereyta yanawa. Kamak Nehe (I am aware when I speak like this, it goes to newspapers. It does not matter," said an angry Rajapaksa. There was a chorus of support from ministers as he made the remarks. At the centre of accusations against the US is an advertisement by USAID, a funding agency of the US Government, calling for a voter education programme through different organisations. USAID has since called off the programme but is expected to continue its funding to Sri Lankan polls monitoring bodies, as in the past years, to ensure free and fair elections.
Told of Rajapaksa's remarks, UNP leader Wickremesinghe confirmed that he was present at a meeting at the Nalandaramaya Temple in Nugegoda. "There was no discussion about NGOs making any monetary contributions to an election campaign. That is nonsense. The meeting discussed other issues — Government's support for the Bodu Bala Sena (BBS); who allowed their meeting at Aluthgama and the fate that befell Venerable Wataraka Vijitha Thera," Wickremesinghe told the Sunday Times. He said a number of people representing 'unity groups' were present. That included Mangala Samaraweera, Mano Ganeshan, Kelly Senanayake (a former JVP activist), trade union representatives and those representing civil society groups.
"We know that such events are closely monitored by intelligence personnel. We are aware it happened this time too. It is laughable that anyone should come to the conclusion that we were discussing an election campaign with anyone's money," said Wickremesinghe. Added Mangala Samaraweera,"even if we talked of a campaign, which was not the case, it is not a crime. We are well within our rights. The talk of American money is the latest chapter in the Government's propaganda. People will not believe it. The Govt. is only trying to hide its sins," he charged. He said that the Government was unable to face the issues confronting the people.
At the ministerial meeting, Rajapaksa turned to Foreign Employment Minister Dilan Perera and asked him to take action against kata kathaa (foul talk) that Sinhalese employed in West Asian countries were to be told to return to Sri Lanka. This was seemingly after the ethnic violence in Aluthgama, Beruwala and Dharga Town. He said this was a canard and action should be taken to allay any possible fears. In what seemed a disconnect, Minister Perera referred to a protest outside the South Korean Embassy in Colombo by job seekers. The Seoul Government was unhappy over this. "Eka nevei. Meka balanna (not that, please take a look at this," said Rajapaksa. There was a jolt then for Health Minister Maithripala Sirisena. Rajapaksa read out a list of troops being deployed in different parts of the country to counter the dengue menace. They were conducting raids and taking to task those allowing dengue mosquitoes to breed. However, there was no similar action from Health officials, he noted adding that nothing was happening.
Rajapaksa's tirade against Wickremesinghe did not stop at the ministerial meeting. He continued at the next meeting, a gathering of partners of the UPFA, also in the Presidential Secretariat. He said the last UNP administration under Wickremesinghe was "anti-people." He noted that within the age group 30 to 35 there was a new generation which was unaware of the follies of that Government, how it took over business enterprises, heaped hardships on the people and deprived many of their livelihood. The handloom industry was then crippled. He turned to Presidential Secretary Lalith Weeratunga and urged him to compile documentation that could be used in a campaign to educate the people.
Last Monday, at the Chaya Bay Hotel in Beruwala, Rajapaksa spoke to ministers, parliamentarians and chief ministers. Other than a Baila session in the night, the event turned out to be a mirror of the mood within the UPFA. One was the responses to a presentation on the state of the economy by Treasury Secretary P.B. Jayasundera. If it met with much scepticism, there were also heated exchanges on a variety of other issues. There was virtual consensus among MPs that building roads alone was not the answer. They underscored the need to address people's problems. There was criticism over the delay in responding to incidents in Aluthgama, Beruwala and Dharga Town. Presidential spokesperson Mohan Samaranayake spoke on 'Boruwa Saha Nopenena Attha' (Visible Untruth and Invisible Truth). Samaranayake, a former staffer in the UN office in Colombo, was delving on matters relating to the ongoing Human Rights Council international investigations into alleged war crimes in Sri Lanka. There were many questions on whether there would be sanctions on Sri Lanka. But he said he was unsure.
Rajapaksa declared; "I know the pulse of the people and the right time to conduct elections. Make use of the funds allocated to carry out development work in your respective areas. Your work should be in consultation with local council members in your area. The UPFA, which is way ahead of the other parties, will continue to remain. I will win." He accused the UNP leader of telling untruths and claimed he could not match it. Accusations had been made that the free education system was being changed. The UNP leader was also attempting to distance the Muslims from the UPFA Government, Rajapaksa said and added that he had met community leaders and briefed them. Two ministers — Vasudeva Nanayakkara and D.E.W. Gunasekera — wanted the executive presidential system abolished. Thilanga Sumathipala, Colombo District UPFA parliamentarian, however, urged that the powers of the presidency be pruned.
When Thursday's meeting of UPFA partners was over, Rajapaksa met Palani Digambaram and Praba Ganeshan, both parliamentarians who crossed over from the UNP. The talks centred on reported assurances given to them when they changed allegiance that they would be made deputy ministers. Rajapaksa had called upon them to be patient amidst reports that Ceylon Workers Congress (CWC) leader Arumugam Thondaman was opposed to the move. Thondaman is already staking his claims for three slots for the CWC when UPFA candidates are finalised for the upcoming Uva Provincial Council elections.
The UPC is to be dissolved on Friday (July 11) and the nominations are expected to be called from August 1. A date for the elections is expected to be in September. Even before the UPC is dissolved, the UPFA and opposition political parties have already gone into election mode. Unlike the previous provincial elections, the Uva polls will be a forerunner to the presidential polls. It comes in the backdrop of the impending presidential elections and hence will be keenly fought. For the UPFA which is becoming increasingly unpopular and for a UNP still trying to find its feet it would be decisive. If it is a pointer to the UPFA's current standing, for the UNP it will be a test on whether its vote base has increased and it has made gains. In the past provincial and local polls, poor performance has led to internal squabbles in the party. Hence, a bad performance this time, when it amounts to a "dress rehearsal" to a presidential poll, would only mean that the UNP's campaign will kick off badly.
On Friday, UNP leaders were busy focusing on their chief ministerial candidate and contestants for Uva. Harin Fernando, the UNP MP from the Badulla District is touted as the frontrunner and is discussing a number of conditions he wants fulfilled by the leadership before quitting Parliament. In the event President Rajapaksa chooses to hold a referendum to extend the term of the current Parliament, without going to polls, Fernando has sought an assurance that he should be accommodated as an MP. This is if he is defeated. Another condition is that leader Wickremesinghe should be on the same platform with former deputy Sajith Premadasa during the polls campaign.
A fast changing Government calendar has led to a possible delay in plans for a presidential election. If current developments do not cloud relations, Rajapaksa is expected to make an official visit to Pakistan next month. In December, he plans to host Chinese President Xi Jinping who will be on a state visit. Pope Francis is due in Colombo from January 13 to 15. A tradition followed by the Vatican is for the Pope not to visit countries where an election has been announced. There is lobbying taking place for the Pope to visit Mannar during his visit. Hence, well informed UPFA sources believe an announcement of a presidential poll is not likely until after mid-January. These sources say it was most likely the polls would be scheduled for March, just ahead of the 28th sessions of the UN Human Rights Council in Geneva. It is at these sessions that the findings of the ongoing international investigation into alleged war crimes will be made known. The same sources said that a Rajapaksa victory could then be showcased as a public endorsement of his policies.
Yet, the Government is saddled not only with domestic but also some thorny foreign policy issues in the coming weeks. Tomorrow, South Africa's acting President Cyril Ramaphosa will arrive in Colombo on a near two-day visit. He is being afforded the courtesies due to a head of state. Ramaphosa has been named by President Jacob Zuma to be the honest broker for "peace and reconciliation" in Sri Lanka. The other members of his delegation are Ebrahim Esmail Ebrahim – Parliamentary Counsellor to the President in the National Assembly; Obeid Bopiela – Deputy Minister for Performance Monitoring, Evaluation and Administration; Roelf Meyer – Defence Minister in the apartheid regime and later a member of Nelson Mandela's cabinet and Ivor Jenkins – consultant and Director at In Transformation Initiative.
Ramphosa and his entourage will fly to Jaffna for a meeting with Chief Minister C.V. Vigneswaran and later call on President Mahinda Rajapaksa. Besides talks with External Affairs Minister Peiris, he will also meet leaders of the Tamil National Alliance, the United National Party and civil society representatives. A source familiar with the South African initiative said Ramaphosa's discussions would be on "talks about talks." The idea is to formulate a time table on how South Africa would proceed with its mediatory role. Ramaphosa and his entourage will not visit New Delhi as earlier expected. They will proceed to South Africa where Ramaphosa is reportedly scheduled to chair a cabinet meeting.
It may be recalled that during talks President Rajapaksa had with Indian Prime Minister Narendra Modi, the latter called for the fuller implementation of the 13th Amendment to the Constitution and go beyond it. This came when Rajapaksa was in New Delhi for Premier Modi's swearing-in.
However, upon his return to Colombo, he directed Minister Nimal Siripala de Silva, to explain the Government's position at a news conference. De Silva, Chairman of a Parliamentary Select Committee (PSC) formulating a package to address the national question, declared, "The 13th Amendment was forced down on us. We have managed to continue with it. Now, there is discussion about its implementation…… India is the closest neighbour but no one can dictate terms to us. We are ready to listen to them….. What we say is that the people of Sri Lanka and Parliament should decide on the solution and an outsider does not have the right to dictate the solution……"
Arguably, the South African involvement, going by Minister de Silva's own statement, is an 'outsider' trying to formulate a solution. How then does the UPFA Government reconcile its position? Some UPFA partners are strongly opposed to any outside initiative. Minister Champika Ranawaka, General Secretary of the Jathika Hela Urumaya (JHU), told the Sunday Times, "We vehemently oppose any outside intervention. We have made our position clear repeatedly." He said it was a matter for the UPFA Government to talk with other stakeholders and resolve issues locally. "No outside initiative will work. It should not be allowed," he added. One of the 12-point reform proposals put forward by the National Freedom Front (NFF) is a demand that there should be no "outside involvement" in Sri Lanka's national question. However, NFF leader Wimal Weerawansa, who is on a "peace and reconciliation" initiative with the UPFA leadership, particularly President Rajapaksa, after a self-imposed boycott, was not available for comment. His phone remained unanswered.
Why then did the UPFA Government choose to proceed with the South African initiative notwithstanding the protests? Firstly, it has come to light that External Affairs Minister Peiris has asked South Africa's High Commissioner Geoff Doidge not to comment on his country's initiative. That the latter accepts instructions not from Pretoria on such a matter, thus denying transparency to the Sri Lankan public, is one issue. As for the timing, no official explanation has been given. An External Affairs Ministry source claimed that "an initiative by South Africa, the most powerful nation in the African continent, was proof that the Government of Sri Lanka was acting on an important issue." That is not all. The source argues that South Africa will also be in a position to cushion any diplomatic blows Sri Lanka would have to face once the international investigation into alleged war crimes is concluded. Whether this is the official view of the UPFA Government is still not clear.
As revealed last week, the South African initiative involves a step by step process. Accord reached among the stakeholders would lead to draft constitutional amendments. During such a process, it will not be surprising if existing provisions in the 13th Amendment to the Constitution, the outcome of the Indo-Sri Lanka Accord, may face changes.
It has become incumbent upon Minister Peiris to explain this to his counterpart Sushma Swaraj when he meets her in New Delhi on Friday (July 11). He leaves on a private visit to two different states in India on Wednesday and will later proceed to New Delhi. Besides the South African initiative, Peiris is also due to raise the fishermen's dispute and other matters.
The Sunday Times has learnt that External Affairs Minister Swaraj is to raise with Minister Peiris an issue which has emerged as the newest thorn in relations between New Dehi and Colombo. That is a Government decision on May 29 to allow China National Aero-Technology Import-Export Corporation (CATIC) to establish a US$ 40.3 million (more than Rs. 5.15 billion) Aircraft Base Maintenance Centre in Trincomalee. This is after a visit to Colombo by an 18 member team of Chinese engineering experts. The high cost maintenance centre is to service all Chinese made aircraft of the Sri Lanka Air Force. The new facility is to be located near the Air Force Academy. According to an Air Force source, China has offered concessionary terms by cancelling accrued interest and providing a discount on the cost.
Sources in New Delhi said the Indian Government contends that allowing a military facility in Trincomalee contravenes the Indo-Sri Lanka Accord of 1987. They say that part of the Accord were the letters exchanged between the then Sri Lankan President J.R. Jayewardene and the then Indian Prime Minister Rajiv Gandhi. In terms that"Sri Lanka ports including Trincomalee," the source said "will not be permitted for military use if it is prejudicial to India's interests."
This is what Premier Rajiv Gandhi's letter said: "Conscious of the friendship between our two countries stretching over two millennia and more, and recognising the importance of nurturing this traditional friendship, it is imperative that both Sri Lanka and India reaffirm the decision not to allow our respective territories to be used for activities prejudicial to each other's unity, territorial integrity and security.
"In this spirit, you had, in the course of our discussions agreed to meet some of India's concerns as follows: Your Excellency and myself will reach an early understanding about the relevance and employment of foreign military and intelligence personnel with a view to ensuring that such presence will not prejudice Indo-Sri Lankan relations. Trincomalee or any other ports in Sri Lanka will not be made available for military use by any country in a manner prejudicial to India's interests.
"The work of restoring and operating the Trincomalee oil tank farm will be undertaken as a joint venture between India and Sri Lanka. Sri Lanka's agreements with foreign broadcasting organisations will be reviewed to ensure that any facilities set up by them in Sri Lanka are used solely as public broadcasting facilities and not for any military or intelligence purposes. In the same spirit India will:
" Deport all Sri Lankan citizens who are found to be engaging in terrorist activities or advocating separatism or secessionism;
" Provide training facilities and military supplies for Sri Lankan forces, and;
" India and Sri Lanka have agreed to set up a joint consultative mechanism to continuously review matters of common concern in the light of the objectives stated in Para 1 and specifically to monitor the implementation of other matters contained in this letter.
"Kindly confirm, Excellency, that the above correctly sets out the agreement reached between us. Please accept, Excellency, the assurances of my highest consideration. Yours sincerely, (Rajiv Gandhi)."
Here is the late President Jayewardene's response: This is to confirm that the above correctly sets out the understanding reached between us. Please accept, Excellency, the assurances of my highest consideration. (J R Jayewardene, President).
CATIC is the sole authorised Government agency in China to export aviation related products and support services. In 2011, the Government offered CATIC a plot of land opposite the Galle Face Green for a hotel project. This was not accepted by it because the land, it turned out, was not for outright sale. It was only to be given on long term lease. However, the adjoining plot was sold outright for the construction of the upmarket Shangri La Hotel.
It is not clear whether the EAM was consulted before the Aircraft Base Maintenance Centre deal was finalised with China. However, being a Minister in the Government, Peiris was present and therefore should not have been unaware that a decision was made on May 29 by the cabinet of ministers. Another issue that has come into focus now centres on Pakistan.
After Premier Modi raised issue with Rajapaksa over fears that Pakistan's intelligence agency would use Sri Lankan soil to attack South Indian targets, the Government launched an operation to round up visa overstays. This was particularly in the backdrop of reported confessions by a Sri Lankan now in Indian custody. After overstayerss filled up the Detention Centre at Mirihana, the remaining people were moved to the Detention Camp in Boosa near Galle. Of some 1,500 in custody, only a little more than hundred have so far been deported. For the Government, the problem has been one of finding funds to meet travel costs. On top of that, it is entangled in a debate with the Colombo office of the UN High Commissioner for Refugees. The latter is demanding that asylum seekers be not deported. They are also seeking access to those under detention. Reports from Islamabad say that authorities there planned to prosecute returnees on the grounds that they "disgraced" Pakistan.
In the midst of these developments came reports that a senior Pakistan High Commission official has been told by the EAM to leave Sri Lanka. A High Commission source, however, refuted the claim and said that the official in question had ended his tour of duty and a replacement had already arrived. Yet, the fact that all is not well emanates from the sudden departure of Pakistan's High Commissioner Major General (retd.) Qasim Qureshi. He is said to have gone to Islamabad for consultations and was a notable absentee at Iftar parties in the diplomatic circuit. Iftar is when Muslims end their day long fast at sunset.
The issue of visas had reached uncontrollable proportions after Pakistani nationals were allowed to obtain them through the ETA (Electronic Travel Authority) as well as on arrival. Both schemes have now been withdrawn and Pakistani nationals have been advised that they should apply at the Sri Lanka diplomatic missions in their country.
This week's developments show that Sri Lanka's relations with both neighbours, India and Pakistan, are shaky. The knotty issues are emerging at a time when there is already considerable international pressure on the Government from different fronts. An EAM official noted somewhat sarcastically, "Even by design and default we could not have deliberately created the situation we face today. There are so many things going wrong. No soul searching is done to rectify mistakes and move ahead." How true.