Need for calm, say both sides
Police inaction blamed for spiralling violence in Aluthgama while police say the sudden flare up made it difficult to control situation immediately
View(s):
Dust is settling on the violence that engulfed Aluthgama and the surrounding areas but a high level of security will remain to prevent any recurrence.
The incident has left four dead, over 60 injured and the homes of both Sinhala and Muslim residents, mainly in Dharga Town, destroyed or damaged. In addition, shops belonging to Muslims in Aluthgama and Beruwala were torched.
The incidents were sparked by an alleged attack on a Buddhist monk, Ven. Ayagama Samitha Thera, and his driver by a Muslim three-wheeler operator. The monk and the driver had been on their way to a temple ceremony on Poson Day in a three-wheeler when the incident occurred. Crowds at the temple who learnt of the incident stormed the Aluthgama Police Station together with the priest and demanded immediate action. Police arrested three Muslims. They were produced in Courts and remanded till June 25.
Mobs then attacked each other's shops, houses and even passers-by in Dharga Town. Problems exacerbated three days later after a meeting at which Bodu Bala Sena (BBS) leader Ven. Galagoda Aththe Gnanasara Thera, one of the main speakers, made a fiery speech.
The end of the meeting saw more violence.
Police permission had been granted to the Bodu Bala Sena (BBS) to conduct the meeting. However, the Ven. Gnanasara Thera said it was not their event though he took part in it. (See box story for his comments).
"Things are peaceful now," District Secretary Kalutara U.D.C.Jayalal told the Sunday Times. "We have formed committees comprising both Sinhalese and Muslims to ease tensions in the area."
President Mahinda Rajapaksa, who was in Bolivia for the G77 Summit during the incident, visited the area on his return on Thursday.He promised that the government would rebuild or provide compensation for the destroyed and damaged properties.
Police say 54 houses and 60 shops were torched. The total number of complaints lodged regarding property damage is 138. Some Muslims who took shelter in mosques and public schools have remained there since Sunday night. But a majority of those who sought safe haven have returned home and were given dry rations.
Ven. Samitha Thera, who is at the centre of the storm, said that it was police inaction that led to the escalation of the situation.
"When I was beaten I went to lodge a complaint with the police, and went to a hospital to receive treatment for my injuries. But the police did not arrest the suspects for a long period after the complaint was lodged. Had they implemented the law properly this would not have happened" he said.
However Samitha Thera emphasised the need for both communities to calm down. Highlighting that members of both communities live in the area he said that the police should act diligently and enforce law and order.
"They have faults; they should correct themselves. But it is the responsibility of both sides to maintain peace in the area" the monk said.
Meanwhile, search operations by Police and the STF led to the recovery of 48 petrol bombs, Police say. Three suspects were arrested in this regard. However, on Friday the authorities found 45 more petrol bombs in Beruwala, they said.
In a special statement in Parliament on Tuesday, Prime Minister D.M. Jayaratne said the root of the problem was believed to be an incident where a Buddhist monk was assaulted by a small group of residents in Dharga Town.
Inspector General of Police N. K. Illangakoon confirmed this at a news conference in Kalutara. Police Spokesman Ajith Rohana said three Muslim men were arrested on the day of the assault and were remanded.
The Police were heavily criticised for their failure to control the crowds and also for permitting the public rally to take place despite the tense atmosphere and several warnings. Sri Lanka Muslim Congress (SLMC) leader and Justice Minister Rauff Hakeem questioned the capacity of the Police intelligence unit which had failed to gauge the situation correctly.
"Why did the Police not act when things were getting tense in the area?" a visibly angry Minister asked in Parliament. "Where was the Police intelligence which could have helped prevent such an incident?" He said it was puzzling how a government that could crush a terrorist organisation such as the LTTE could not crack down on extremist groups making inroads into the country.
The Police had not anticipated the situation would escalate into violence, IGP Illangakoon said. At a meeting held before the rally, religious groups of both parties had pledged to maintain the peace.
"We warned the Moulavi of the mosque in Dharga town not to let a large crowd congregate when the procession passes through," said Mr. Illangakoon. "But there was a large crowd so we heightened security. Stones and wooden planks were thrown at the procession from the mosque triggering a clash. Although we were able to defuse the situation, violence within the village went out of control and

lasted for one-and-a-half days."
The mobs stormed a six-acre farm belonging to M. Hazeem's family. The bungalow and farm office were set alight, animals were harmed but some were stolen. The farm, which has ten permanent employees and another group on rotation, has incurred a loss of close on Rs. 7 million, he estimated.
"Many among our community were attacked and had nowhere to go," Mr Hazeem said. "It was a well organised event. The attackers had petrol bombs and other weapons. They even had lorries to carry away their loot. They emptied the houses and set them on fire."
Mr. Hazeem believes that the mobs had assistance from at least some of the residents of the area. "Otherwise, how would they know which house was a Sinhala house and which house was a Muslim house? If not the residents, there must have been people who were quite familiar with the area." SSP Rohana said the violence that ensued in the aftermath of the meeting had erupted suddenly and spiralled in a manner that had been difficult for police to immediately control. Security has now been beefed up with 10,000 police and STF personnel who will stay there till the situation is completely calm and returns to normal, he added.
The Army has deployed mobile teams ready to respond to any emergency situation, Military Spokesman Brigadier Ruwan Wanigasooriya said. Both officials appealed to the public not to fall prey to false rumours and to refrain from any kind of violence. Giving undue publicity to the situation will trigger off other illegal activities like looting, the Brigadier stressed.
The international community too has voiced concern. UN Secretary General Ban Ki-moon condemned the incidents while stating that the Sri Lankan Government should take immediate action to ensure the safety of all communities. Navi Pillay, UN High Commissioner for Human Rights, urged the Government to do everything it could to arrest the violence, curb the incitement and hate speech which was driving it and to protect all religious minorities.
The European Union Delegation and US State Department expressed similar concerns, with the latter emphasising that the Sri Lankan Government has a responsibility to take measures to promote religious harmony.
The Organisation of Islamic Cooperation (OIC) appealed for calm and peaceful relations between the Sinhala and Muslim communities and urged the authorities to enforce the rule of law, investigate the incidents and bring the perpetrators to justice.
The town resembled a battlground,  says attacked journalist Our regional correspondent, Sarath Siriwardana (37) was hospitalised with serious injuries when mobs attacked him last Sunday night while on assignment in Aluthgama.

"I thought I was going to die that night", he says. "About hundred people, both Sinhala and Muslim, surrounded me and attacked me, they took my camera and smashed it on the floor"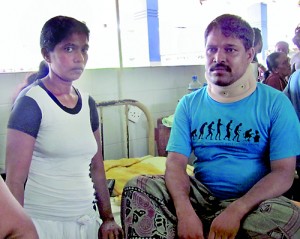 Mr. Siriwardana was taking pictures of the vehicle procession towards the temple when he suddenly heard screams and shouts that it had been targeted. He rushed to the scene to take pictures.
"They were attacking each other, I took pictures of members of both communities being violent and suddenly they turned on me," he recounted.
"I suddenly felt a severe blow to my head, and a few others started hitting me from behind," he narrated. "I collapsed and they kept hitting me. They tore my clothes off and kept beating me from all sides. They kept saying that I should be killed."
Hearing gunshots from a distance, the mob dispersed. Siriwardana noticed that a number of houses were in flames. With difficulty he crawled into a nearby garden, where he hid until the mobs passed.
Unable to stay there any longer for fear of being discovered, he began making his way towards the town, when he met a police officer known to him. The officer asked him to stay in the police jeep for safety. Moments later, Sriwardana got off the vehicle as he noticed that mobs were attacking police jeeps and buses and made his way to Aluthgama town on foot. "The town resembled a battle ground," he said. "I saw mobs setting vehicles on fire and some shops were alight. Teargas was being sprayed from one end.
Crippled by pain in his head and neck and his vision impaired by teargas, Siriwardana was unable to walk any further and asked for assistance from a shop owner. He gave him a basin of water to wash his face.
"Suddenly two middle-aged men in white clothes came and started attacking me," he said. "One slapped me hard in the face. I screamed that I am Sinhalese. They let me go and asked me to get lost."
After locating his motorcycle, he asked some people for assistance to get to a hospital. He was later admitted to Nagoda hospital where he received resident treatment for hairline fractures in his hip bones and ribs, and other injuries caused to his neck.