If one zoo is woeful we'll make more zoos!
By Kasun Warakapitiya and Aanya Wipulasena
Animals suffer silently in tiny spaces, dying without reason
View(s):
While the government is ambitiously planning new zoos, critics say the existing Dehiwela Zoo's glaring lack of resources and poor
record of animal care – a lion and a hippopotamus died this month – create strong doubts about animal welfare in new institutions.
In its pen an African elephant sways from side to side. His fore and hind legs are tightly bound with metal chains limiting its movements. His head is covered with a repellent rash. A mahout said that the rash spreads through the elephant's body because he does not have mud and sand to bathe it with, to keep it clean.
We saw, sweating in the heat, a veterinary surgeon and curators struggling hard to treat a dying pony. Holding a bottle of saline the vet was instructing the young curators. Neighing weakly, the pony tried to get up but collapsed on the floor with a thud. Outside, two round-eyed ponies stuck their heads out of their enclosure towards the room in which the pony was being treated.
"They know that their friend is hurt," a bystander says to his companion.
The critically ill animal was brought to the zoo three years ago from Kandy.
"It is hard to say what is wrong with the pony but it is terminal. Something is wrong with its digestive system," a zookeeper who did not want to be named said during our visit on Thursday.
He said that there was a high chance that the pony would breathe its last in a day or two.
The deaths of a lion and hippopotamus last week gripped public attention. Animal rights groups made open statements and political parties visited the zoo following the incidents. All their questions boiled down to one. Are the zoo employees capable of taking good care of the animals?
The zoo officials allege that the animals died of old age. An inside source said that the hippopotamus, belonging to a rare breed, died young.
In a separate incident, two months ago, zoo elephants were infected with tuberculosis. It was debated in Parliament that poor conditions in the zoo and mismanagement had led to the spread of the disease among the animals.
Yet, today, animals such as the sick pony suffer as a result of problems that are left unaddressed.
About 6000 animals of 310 species live in the zoo, cared for by 350 employees. Among them only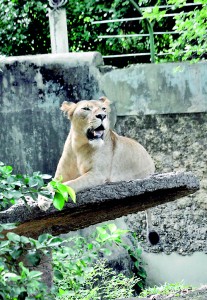 three are trained veterinary surgeons. Though the vets are employed full-time, it is easy to see that some animals are left without proper attention and care.
"The curators who are put to look after the animals lack sufficient knowledge. They even fail to identify the correct meals the animals should be fed," claimed environmentalist and wildlife researcher Dulan Ranga Vidanapathirana.
He said that due to the caretakers' ignorance animals were not bred correctly, causing offspring to be weak and vulnerable to untimely death. "Sometimes the mother herself kills her babies because she knows that they will not survive, while the ones that survive are sometimes smuggled out by the officials," Mr. Vidanapathirana said.
He pointed out that the enclosures lack space and some are damaged, tearing the animals' skin. He
also said the animals' mental health was in a questionable state.
While animals such as small monkeys and birds sleep, rats sneak in to eat their food. The large number of rodents was living proof that the zoo was unhygienic, Mr. Vidanapathirana said.
Groups of various kinds of deer are kept in different enclosures. Their dewy eyes and little fawns attract visitors. An animal lover will understand what they suffer silently. The enclosures lack greenery, the exact opposite of their natural habitat.
"It is true that the animals lack proper living conditions. The zoo does not lack employees but in fact it is almost over-staffed. There are a large number of politically-appointed persons working in the zoo. They do not love animals or have any idea about how to care for them," a zoo official who wished to remain anonymous said.
He added that although new employees were given on-the-job training it was not sufficient. He also said that though the large sum of Rs. 9.8 million was allocated monthly to spend on animal food, the food was sometimes sub-standard.
Meanwhile the Government is taking steps to introduce more zoos within the next two years. A 500-acre area has been set aside in Hambantota for a safari park. Animals such as elephants, bear and lions are to be taken to the site from the Dehiwela zoo, leaving a few in their current cages and enclosures. More animals are to be brought in from other countries in exchange programmes.
The Walawe Ganga will be diverted to provide water for the animals in the new safari park. A sum of Rs. 2,600 million has been allocated for this. In addition a sum of Rs. 5,000 million is to be given to improve the standards of the Pinnawala orphanage.
An eco park to be constructed in Piliyandala will include animal exhibits along with water sports, rollercoaster rides and other entertainment.
"We believe that the new projects will be good for our animals. The Dehiwela zoo has only 22 acres and there is more space allocated to human activities than for the animals. There are large numbers of visitors. In August, we see about 8,000 people visiting each day," said Department of National Zoological Gardens Director P. M. Anura De Silva.
He acknowledged that sometimes the zoo experienced financial difficulties and employee problems but said the institution was doing its best to resolve these issues.