BBS denies organising Aluthgama meet, inciting hatred
View(s):

Ven. Galagoda Aththe Gnanasara Thera denies that the Bodu Bala Sena (BBS) held a meeting at Aluthgama and claims it was organised by the Sasana Arakshaka Balamandalaya.

Following are excerpts of a Q & A with the Sunday Times: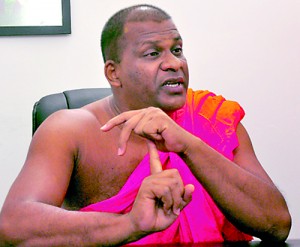 -Why did you decide to hold a rally in Aluthgama given the tense situation that prevailed in the area?
What was held was not a BBS meeting nor was it organised by us. There was unrest brewing in the area owing to some incidents. In the midst of this, a Buddhist priest was beaten up, and when he went to complain to the police no action was taken. When the news spread, the people in the area got agitated, and about 10-12 shops belonging to both sides were torched that night. Following the incident, the priests of the Sasana Arakshaka Balamandalaya in the area contacted us.
We decided to hold a meeting to speak to the residents of the area, hoping to calm the situation. Sihala Ravaya and other organizations also took part in the discussions and the conference.
-Some allege that the speech you made at the rally incited hatred towards the minorities?
I flatly deny this charge. If you say my speech instigated the people to attack, then they should have done so, at that point. I spoke stronger than this in Mawanella town, there were no attacks there.
-Were BBS members involved in the attacks on Muslims in Aluthgama?
There were only 10 monks who took part, and may be 10 or so others of the BBS, so it is impossible to say.
-Two attempts by the BBS to hold meetings in Mawanella and Badulla, immediately after Alutgama, were stopped by the police on court orders. Your comments.
We had no connection to those meetings. Now, as if by habit, the BBS is named for everything.
-So the Police made a mistake?
Yes, they made a mistake. It is such an idiotic police.
-Have you been provided security by the Government?
I have no security at all. We do not get any assistance or donations. We only have the security of the Triple Gem.
-There are calls to ban the BBS. What is your response?
I find that amusing. What do they mean by saying BBS is extremist. Our leaders are known to the public. We never discuss anything in secret. What is the extremism in that? Where we live or what we do is no secret. We speak openly, we make open accusations.
-Some Buddhists accuse the BBS of doing disservice to Buddhism. Your comments.
My only response to those fools is that I have only compassion towards them.