The voice and his wife
By Duvindi Illankoon
Only a few days after his wedding, Sri Lankan born Julian Simonsz wowed the judges on The Voice Australia, with his new bride by his side
View(s):
There's a clip on YouTube that will steal your heart. Sri Lankan born Julian Simonsz' audition for The Voice Australia was an instant hit, not just Down Under but back home in Sri Lanka and around the world as well. Julian and his beautiful wife Nelu created quite the stir when they were on stage together, not least for Julian's successful audition which garnered him a coveted spot on Will.i.Am's team. 
"It's unbelievable," says Nelu over a Skype interview with the Sunday Times. "The response we had for his audition just bowled us over." Singing Justin Timberlake's Suit and Tie at the blind audition, Julian managed to very quickly serenade the judges into turning around, with Kylie Minogue, Will.i.Am, Ricky Martin and Joel Madden all vying for his inclusion in their team.
It didn't take the four superstar coaches long to find out that the contestant had married just a few days ago and taken time off his honeymoon to audition for the show. Joel, on hearing this, jumped off stage and returned with Nelu, encouraging her to join the singer on stage quipping "as a married man, I know it's your wife that makes the decisions. You may think that's it's your decision but it's actually not."
Nelu laughs when asked if this was the case. "I don't think Julian really thought about who he was going to pick before the audition," she says. "Honestly he would have just been happy if one person turned around!" Luckily for Julian, all four judges were quick to swivel around during his performance, clamouring to have him on their team. Julian eventually picked Will.I.Am, "one of his favourite musicians," says his wife.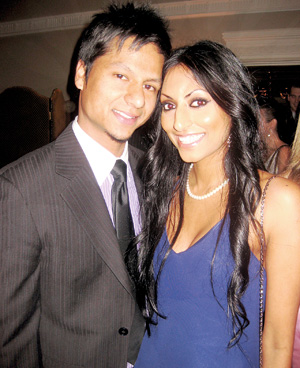 Julian and Nelu met as children, and the two remained family friends for a long time. After losing touch for a while, they reconnected at his grandmother's funeral. "We became best friends and now here we are, married!" smiles Nelu, a paediatric doctor by profession. Julian hails from a musical family (his grandfather is well known expatriate tabla and mandolin player John Alex Dawson). "He wanted to be in the music industry since he was very young," shares Nelu. After following a course in design and obtaining a degree in audio engineering, Julian began dabbling in both the performance and producing arena. "He's always wanted to audition for a show like this," says Nelu. "If anything, it's a very effective way to get noticed in the industry."
At the audition Julian was "probably calmer than I was!" she laughs. During his audition the camera would alternate to shots of Nelu and Antonia (his mother) in the waiting room and their excitement and nerves are palpable, even though Julian is singing amazingly well and the judges are clearly happy. Subsequent to audition the couple came back to Sri Lanka for their second wedding celebration, following it up with a quiet honeymoon here. "We planned to go to Maldives but then thought it would be nicer to stay in Sri Lanka," shares Nelu.
The response to Julian's audition from the Sri Lankan community over there and of course, from here, has his wife quite moved. "It was really nice to stand there with him and have the judges say all those wonderful things about him, but then to also have everyone here write to us and wish Julian and encourage him-it's a fantastic feeling!"
Sometimes he even gets stopped on the streets, she laughs. Perhaps it's the singer's warmth and honesty that draws us to him, for even on television he projects an immense sense of quiet confidence and good humour. "He's so humble," agrees his wife. "And he's so well rounded and very close to his family. I think that's why so many people have warmed to him."
And as for postponing their honeymoon and rushing to a strenuous audition just days after their nuptials-Nelu takes it in her stride. "Obviously Julian's audition was the priority." And that's perhaps why so many have also warmed to his beautiful wife, who clutched his hand on stage and beamed every time the judges complimented him. "It's so great to see him doing what he loves!" she says.