That happy feeling…
By Duvindi Illankoon
The Mirror Magazine catches up with Devinda Fernando, who conceptualized, directed and edited the popular 'Happy Sri Lanka' video
View(s):
A five-minute montage of faces from radio, television, the silver screen and even social media dancing to Pharell Williams' 'Happy' is creating quite a buzz on YouTube.
The video was conceptualized, directed and edited by Devinda Fernando of Annoyboy Pictures, a local company in the line of audio and visual productions. Arguably an unusal name for a production house, 'Annoyboy' was his nickname in college, we're told. With its memorable ring to it Devinda had no doubt that few would forget it once they heard it."And that's why it's called Annoyboy."
Devinda moved to Colombo with his wife Ayesha after over a decade in New York because he was "feeling restless", and founded Annoyboy as his foray into the industry. A globetrotter by upbringing (he moved to Zambia with his parents as a young boy) and has been travelling since while seeing his fair share of culture and was instantly fascinated by his own country's multi-faceted arts. This video is certainly not his first (since starting Annoyboy they've had steady business in the form of music videos, commercials and even a number of foreign productions) but it's the first time in a long time that so many well-known faces have appeared in the same video to just have a good time. "It wasn't very tough getting people on board," he reveals.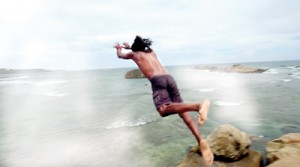 "After we landed a couple of big names it was easy to convince others to come on board as well." A memorable string of appointments and shoots followed. The legendary Sunil Perera of the Gypsies shot his video (in which he pushes a clip of Ronnie Leitch away from the screen) just before a show and several others shot theirs on the move. Devinda says that they didn't really know what to expect from their subjects-"nothing was pre planned except for the date and time" and often found themselves improvising as they went along. "Everyone in the video was fairly easy to work with," he shares. "Some of them went out of their way to do something interesting."
There's a clip of JehanR grooving Michael Jackson-style, Dushyanth-straight after practice-dancing with some of his students and a cheeky Shivantha Wijesinha sliding across his living room in nothing but his shirt and boxers. A diver at the Galle Fort shimmies his way off a cliff (the only clip they had to pay for) and a man dressed as a lion weaves his way around the streets with a flag. The video is both unpredictable and entertaining-it's simply a bunch of people having a good time improvising (and occasionally singing into their hair dryers).
"The response has been very positive overall," says Devinda. Once the video was uploaded onto Facebook and YouTube, the comments came pouring in. "There will always be the occasional comments trying to be smart but the reception has been great. We posted it on Facebook and it really took off with a huge number of views in the space of a few weeks. "
For the moment they're just leveraging on the positive publicity and say they'll stick to their commercial business as well. Devinda, a writer in his spare time, is in the midst of scripting a film for a well-known director.  Find the Annoyboy Pictures version on Youtube as Pharell Williams-Happy (We are from Sri Lanka).